It's gonna be a hollerin', shakin' good time at Blue Heaven Studios for the 16th Blues Masters at the Crossroads. Where, in our converted church sanctuary, the gospel to some, the devil's music to others — the blues — has its due. This is your year to experience it all. Your seat is waiting!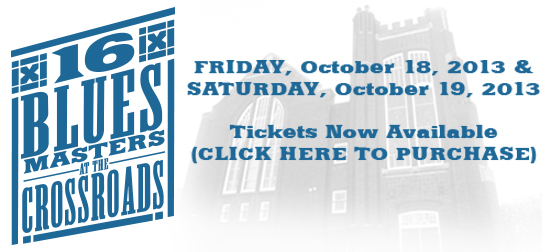 Friday, October 18th
Saturday, October 19th, 2013
Doors Open at 6:45 p.m.
Shows Start at 7:15 p.m.
Blue Heaven Studios
201 S. Eighth Street
Salina, Kansas 67401
785-825-8609
Friday, October 18th
Lazy Lester — Leslie Johnson was born June 20, 1933 in the small town of Torras, Louisiana, and was raised mostly in Scotlandville, a suburb of Baton Rouge. As a boy, he worked at a grocery store, where he purchased a harmonica and Little Walter's famous "Juke" record. Lester began to blow harp and later learned to strum his brother's guitar.

It was in the mid-1950s that fate turned Lester's way. He was living in Rayne, Louisiana, at the time and was on the bus riding home. Lightnin' Slim, who was already an established recording artist, was also on the bus and was headed to Crowley to cut a record at Jay Miller's Studio, where so much of the material for the Nashville-based Excello Records was being recorded. Lester stayed on the bus and accompanied Slim to the studio. When they got there, the scheduled harp player didn't show for the session. Lester told Slim that he thought he could handle the harp parts for the session. Remarkably, Slim and Miller gave Lester that chance, and he did not disappoint. A classic pairing was born, and Lester became a mainstay on Slim's Excello recordings and gigs.

Miller was impressed by Lester's work, and in 1957 Lester debuted as a lead artist on Excello. Before Lester's first record release, Miller had decided that "Lazy Lester" had more of a ring to it than "Lester Johnson." Lester's first legitimate hits came in 1958 with the release of "I'm A Lover Not A Fighter" backed with "Sugar Coated Love." Those two songs established Lester as a star. He hit again with the follow-up record, "I Hear You Knockin'"/"Through The Goodness of My Heart." Lester remained a regular Excello artist, making 15 records for the company.

In 1975, Lester moved to Pontiac, Michigan. He retired from music until the late '80s when he recorded Lazy Lester Rides Again for the Blue Horizon label, winning a W.C. Handy Award. That led to a deal with Alligator Records. Since, he's recorded twice for Antone's and cut one direct-to-disc for APO Records, recorded here at Blue Heaven Studios.

Lester's latest honor was his induction in 2012 into the Blues Hall of Fame by the Blues Foundation. The Blues Hall of Fame committee consists of scholars, record producers, radio programmers, and historians.


Henry Gray


Although he hails from Louisiana, 88-year-old Henry Gray holds the Chicago blues piano throne by merit of 25 years of backing Howlin' Wolf, Little Walter and Jimmy Reed on the south side. He was nominated for a Grammy Award in 1998 and was awarded the National Heritage Fellowship by the National Endowment for the Arts in 2006.




Gray returned to his native Louisiana in 1968 and in plenty of time to become known as one of the greatest of that rich blues scene, but Henry Gray made his truly indelible mark on the blues while in Chicago in the 1950s and '60s. In those days, Gray was in the company of Otis Spann and Sunnyland Slim as the most in-demand players of the time. And of course a 12-year run with the great Howlin' Wolf forever secured Gray's place in blues history.




Gray was born in January 1925 in Kenner, Louisiana to parents who encouraged their son's interest in piano but forbade his passion for the blues. By age 15, Gray had secretly advanced himself to the point of securing a paying gig. He finally got the nerve to tell his father he aimed to be a bluesman. "When my father saw that I could make money playing the blues, he liked it alright," Gray recalls.




Gray arrived in Chicago in 1946, fresh from a stint in the Philippines during World War II. Strongly influenced by barrelhouse master Big Maceo Merriwether, Gray's rapidly escalating talents were soon in heavy demand. After starting out with Little Hudson's Red Devil Trio, Gray appeared on classic sides by Jimmy Reed, Bo Diddley, Jimmy Rogers, Little Walter, Billy Boy Arnold and Morris Pejoe before joining the Wolf in 1956. He can also be heard on many of J.D. Miller's Louisiana Excello recordings of the '50s and '60s.




Gray left Wolf's band in 1968 and returned to Alsen, Louisiana to help his mother with a family fish market business shortly after his father had died. He didn't stay out of music long, however, and has for more than 40 years stayed busy on the international festival and club circuit.




Lil' Ray Neal


Lil' Ray Neal was born Raful Neal III, third eldest of 10 siblings, just outside of Baton Rouge, Louisiana. Lil' Ray began his musical odyssey as a child in the presence of his harmonica playing father, Mr. Raful Neal, Jr. Being exposed to his father's band members and other musicians all the time, the house was filled with music. Lil Ray's uncle owned a "store"/club, called Spooners and his father and his band would play there. At... the end of the night, after the gig, Lil Ray, then about 12, would sneak out into one of the vans and play one of the guitars, always breaking strings and stealthily placing the guitar back in the case, as if nothing had happened. One night, his father's band members didn't show for a gig and he began backing his father in the band. In 1975, he formed a band with his brothers, Ronnie, Larry and Noel. On Saturdays, they played for a local radio station in Baton Rouge, WXOK. In 1980, he went to Canada to play with his oldest brother, Kenny. Since then he has also been on the road playing with James Cotton, Lil Milton Campbell, Bobby Rush and Bobby Blue Bland. 2008 was a turning point in Lil' Ray's career. He got 3rd place at the International Blues Challenge in Memphis, Tennessee and won the Lil' Milton Campbell award for best blues guitarist by JusBlues Magazine.





Chris Thomas King


Sharing screen time with George Clooney, Charles Durning, Holly Hunter and the rest of the cast of "O Brother, Where Art Thou" gained Chris Thomas King a mainstream audience upon the film's debut in 2000.

King portrayed the skilled young bluesman Tommy Johnson, the guitarist who accompanies the Soggy Bottom Boys. He claims that in exchange for his fretboard skill, he sold his soul to the devil at a rural Mississippi crossroads. His character shares a surname and devil-purchased soul legend with real-life bluesmen Tommy Johnson and Robert Johnson, who were unrelated.

King's "Hard Time Killing Floor Blues" was one of the few songs recorded live during filming for the film's Grammy-winning soundtrack. The soundtrack reached No. 1 on the Billboard charts and has since sold 10 million copies.

In 2004 King costarred in the Oscar-winning movie "Ray" about the life and times of the legendary Ray Charles. King recorded music for the soundtrack, which went on to win several Grammys and an Oscar.

But film work is only a part of King's singular sound and style that transcends his blues roots. King was born on Oct. 14, 1964, in Baton Rouge, La. His father, Tabby Thomas, was a locally prominent bluesman and club owner.

While frequenting his father's club he performed with the late Silas Hogan, Guitar Kelly and Clarence Edwards. By sixth grade King was learning to play the trumpet and later he traveled as a rhythm guitar player for such famous musicians as Lowell Folsom and Joe Tex.

In 1995 King started his own independent production company and record label, 21st Century Blues. Soon after, he found success as a film composer and actor, winning three Grammy Awards by 2003 and several country music CMA awards.

While filming "O Brother," King took on the character of Tommy Johnson with such intensity that during his work breaks he wrote an album of songs in the legendary bluesman's style. He's recorded regularly since then; in 2006 he recorded his most personal album to date, titled Rise, about the aftermath of Hurricane Katrina. A single from that album "Baptized in Dirty Water" was nominated for a Handy Award for song of the year. His newest album "Antebellum Postcards" features tracks heavily influenced by Nashville.


Barbara Carr — A brassy belter in the Southern soul-blues vein. A native of St. Louis, Carr was born Barbara Crosby in January 1941, and started singing in her church choir, eventually forming a family gospel group, the Crosby Sisters.

She joined a singing/dancing troupe in grade school and went on to sing in the high school choir, around which time she also helped start a singing group called the Comets Combo that played popular material at local clubs. In 1963, she joined a locally popular group called the Petites, which opened for Smokey Robinson & the Miracles. She met St. Louis-based saxophonist/bandleader Oliver Sain through her brother-in-law (she adopted her husband's last name, Carr) and successfully auditioned to join Sain's band.

Helped by her connection with Sain, Carr signed a solo contract with Chess in 1966 and recorded soulful singles like "Don't Knock Love," "I Can't Stop Now," and "Think About It Baby" over the next few years. Initially excited just to have a record deal, Carr grew frustrated with Chess' seeming lack of interest in promoting her; she stopped recording for a period in the late '60s to raise her children, and then returned to Chess circa 1970, albeit still without much recognition.

She left Sain's band in 1972, and sang with a number of other, mostly short-lived groups around the St. Louis area. Carr recorded another single for Gateway in the late '70s, "Physical Love Affair," but again found little promotional support. She and her husband eventually formed their own label, Bar-Car, in 1982, and Carr issued a number of singles over the next few years, many recorded at the legendary Muscle Shoals studios in Alabama. This material helped form the basis for Carr's first full-length album, 1989's Good Woman Go Bad, which was later reissued on the Shreveport-based Paula label in 1994. A second collection, Street Woman, was released on Bar-Car on cassette in 1992, then upgraded to CD in 1994.

Word of Carr's recordings began to spread, and she wound up signing with the Ecko label in 1996, releasing her label debut, Footprints on the Ceiling, in 1997. The follow-up firmly established Carr's new tough, bawdy blues-mama persona; issued in 1998, both the title and the lyrics of "Bone Me Like You Own Me" left little to the imagination. Carr was becoming popular on blues and retro-soul radio stations around the South, positioning herself as something of a female counterpart to Marvin Sease; her success finally enabled her to quit the day job she'd held for over 20 years at an electronics company. Having hit upon a winning formula, Carr stuck to it for a succession of follow-ups, which included 1999's What a Woman Wants, 2000's Stroke It, 2001's The Best Woman, 2002's On My Own, 2003's Talk to Me, and 2006's Down Low Brother.


Chris Cain
Chris Cain's jazz-tinged, blues soaked guitar and deep, warm vocals have the maturity and authenticity of bluesmen many years his senior. His expressive style is the result of a lifetime of study and the relentless pursuit of music mastery. His passion and intensity are a blend of his mother's Greek ancestry and his father's soulful black heritage.

Cain was raised on stories of his father's childhood upbringing on Memphis' Historic Beale Street and attended his first B.B King concert at the tender age of three. Blues music played continuously on the home stereo and family outings were often trips to concerts. Cain recalls, "I remember when I was a kid, my Dad would be mowing the lawn with the stereo blasting Muddy Waters. When I look back, that was pretty cool! There was always music playing at our house, Ray Charles, B.B. King, Freddie King, Albert King, all the greats."

At the age of 8, Cain taught himself to play guitar and began playing professionally before he was eighteen. Chris studied music at San Jose City College, and was soon teaching jazz improvisation on campus. Over the next 20 years, Cain would also master piano, bass guitar, clarinet, alto and tenor saxophone. The combination of his blues upbringing and his jazz studies melded to form the searing guitar style that sets Chris Cain apart and has moved him to the top ranks of the blues music scene.

Cain's debut recording, Late Night City Blues (Blue Rock'it Records-1987) garnered four W.C. Handy Blues Award nominations, including Guitarist of the Year." Dan Forte of Guitar Player wrote, "An impressive debut album by a top notch guitarist." Cain's next two releases: Cuttin Loose (Blind Pig Records-1990) and Can't Buy a Break (Blind Pig Records-1992) collected a long list of awards and accolades. In August of 1995 Blind Pig released Somewhere Along the Way his 4th compilation of his unique brand of original music sophisticated blues, funk, jazz and gospel.

In 2003 Patrick Ford produced Chris's latest CD, Hall Of Shame (Blue Rock'it Records-2003). "...this is now the sixth Chris Cain solo release I have produced, not to mention his work with me on projects like the Ford Blues Bands' In Memory Of Michael Bloomfield CD, and I continue to be in awe of his incredible talent. As a guitarist/singer, Chris has been praised by mentors like Albert King and peers like Robben Ford," Patrick Ford said.

Larry Nager (syndicated Scripts-Howard music critic) writes, "Nowadays most young blues players are Strat-wielding Stevie Ray Vaughan-a-bes. Not Chris Cain. With a voice that recalls B.B. King and a thick-toned Gibson guitar sound reminiscent of Albert King, Cain is forging a unique style. With his own highly personalized songwriting, Hall Of Shame is a giant step in the development of one of the most compelling young bluesmen on today's scene."



Saturday, October 19th
Doug MacLeod (your emcee and also performing) — The consumate bluesman; an enthralling storyteller. His newest album, There's A Time, pressed at Quality Record Pressings, shares 13 new original songs that are visceral, insightful and often humorous, as on the songs, "My In-laws Are Outlaws," "St. Elmo's Rooms and Pool" and "Dubb's Talkin' Religion Blues." MacLeod, a perennial Blues Music Award nominee, showcases a unique, unorthodox and powerfully rhythmic acoustic guitar style using National Reso-Phonic instruments, including a 12-string, and his old Gibson C-100, the guitar he calls "Little Bit" because each time he plays her a little bit more of her falls off!

MacLeod is a singer-songwriter in the American tradition. He is a traveling artist that writes and sings original songs that are based on his own life and experiences. He learned from the old masters, lived the music, survived the life and carries forward a valuable tradition.

As a youth he overcame abuse and a crippling stutter by turning to music. After he picked up a guitar, and tried to sing - he found his voice.

The rage of his turbulent youth was eventually channeled through his guitar, using his relentless right hand to pound out an insistent, churning beat to complement his intricate bottleneck and finger-style technique.

MacLeod's playing landed him sideman gigs with George "Harmonica" Smith, Big Joe Turner, Pee Wee Crayton, Eddie "Cleanhead" Vinson, Lowell Fulson and Big Mama Thornton. Under their tutelage, he learned how to thrill and enrapture a crowd.

Over the course of nearly 30 years, 17 studio albums, several live records, compilations and two DVDs, MacLeod has consistently earned raves. His songs have been covered by many artists including Albert King, Albert Collins, Joe Louis Walker and Eva Cassidy. He has co-written songs with Dave Alvin and Coco Montoya. MacLeod's songs have been featured in many TV movies and the hit show In The Heat of the Night. Two of his songs are on Grammy-nominated albums by Albert King and Albert Collins.

In every note he performs and records, MacLeod subscribes to the rule-of-thumb learned from country bluesman Ernest Banks from Toano VA. who instilled in him to "Never play a note you don't believe", and "Never write or sing about what you don't know about."


Birdlegg
Selected as Blues Harmonica Player of the Year by the Bay Blues Society in 2004, Birdlegg has been blowing the blues in the Oakland Bay Area for more than 20 years.

Based on his deep belief in preserving the blues, one of the highlights of Birdlegg's career was a project he did with Willie Dixon in bringing teaching of blues to Oakland schools. Birdlegg continues to give lessons in blues harmonica and mentors many young players.

Birdlegg has appeared in many major venues, including the San Francisco Blues Festival, Mount Rushmore National Memorial Park and tours of Europe.

Birdlegg learned about music on his grandpop's back porch. The blues grabbed hold of Bird then, and never let go. "All other forms of music, I had to learn to love, but with the blues, there was no trying at all. I just love it," he says.

Born in Harrisburg, Pennsylvania, in 1947, Eugene "Birdlegg" Pittman grew up listening to his Georgia-born grandfather, who was a professional musician himself, play country and Delta blues on his National steel guitar. While in his early 20s, Birdlegg started picking up the harmonica, learning every Sonny Terry lick he could wrap his ears around.

He played his first gig with Massala Talbert, then a blues icon in Berkeley. He played with the much beloved Cool Poppa Saddler for 13 years. He formed the first Tight Fit Blues Band in 1980, but it was another decade before he felt he'd earned his rightful place next the bluesmen elders.

Harking back to a style reminiscent of two of the greatest early postwar and country blues harmonica players, Sonny Boy Williamson (Rice Miller) and Sonny Terry, Birdlegg's full-tilt playing and singing also brings a fresh, distinctive approach to old-time gut-bucket blues.

"Everything I am is wrapped up in music," he says. "I'm so fortunate to have something no one can take from you. They can take your money, your wife, your kids. But they still can't take the music. It's yours."



Hosea Hargrove
Born between Bastrop and Smithville in the long forgotten farming community of Crafts Prairie, Texas, Hosea Hargrove grew up surrounded by music. A hotbed of blues in the 1930's and 40's, Crafts Prairie introduced Hargrove to such prominent blues men as Grey Ghost, Son Chase, James Lee Williams, Funny Papa Smith, and Sunny Bo Williams.

Before getting his first guitar at age 10, Hosea improvised. "I'd have a cigar box and put me some screen wire on it," he recalls, "it wouldn't work, but I'd try."

Inducted into the Austin Music Awards Hall of fame in 2009, Hosea has played his rootsy style of blues in and around Austin for more than 50 years, schooling such notables as Bill Campbell and Jimmie Vaughan along the way. Don't look for guitar pyrotechnics at a Hosea show, just a straight-from-the-soul simplicity that is the very definition of the blues.

His roots in rural blues come to life in traditionals such as "Nine Pounds of Steel" and "44 in My Hand," as well as the righteous groove of "Rock Me Baby" and the paean to a funky life — "Boog a Loo."

From hitching a ride on the back of Son Chase's horse to his first gig — to the age of the iPod — Hosea's rich legacy of song is something that must be experienced. One of the best of his kind and one of the last of his kind, Hosea is the real thing.

Now in his 80s, Hosea shows no signs of slowing down, "I've been playing blues stuff so long, I don't know how it would feel not playing, I ain't got it in mind to retire," he says. "I'm thinking to get further, if I can, as far as I can go."



Marquise Knox — Marquise Knox is a once-in-a-generation type of talent with the voice, the songwriting talent, the guitar chops and the showmanship more kin to peers twice his age. Born in 1991 in St. Louis, Mo., Marquise hails from a musical family deeply entrenched in the blues. He learned how to play guitar from his grandmother Lillie, whose family were sharecroppers and whose great, great grandparents were slaves. He also played with his uncle Clifford, who was a major influence in Marquise's life.

For Marquise, Blues is his heritage and a way of life. He spent his early teenage years in St. Louis mentoring under the late great Blues legend, N.E.A. Heritage Fellowship recipient and Grammy Award winner Henry James Townsend. Marquise's talents have earned him performing rights with some of America's most notable blues performers such as blues legend and Grammy Award winners B.B. King, Pinetop Perkins and David "Honeyboy" Edwards (the latter two also NEA Heritage Fellows). He has also performed at dozens of festivals, and has toured Germany and played the Baden Blues Festival in Switzerland.

Marquise met Sam Lay during a visit to Clarksdale, Mississippi. Like other statesmen of the Blues, Sam took an immediate liking to Marquise and took it upon himself to help give Marquise's career a boost by insisting that Chad Kassem bring Marquise to the celebrated Blues series "Bluesmasters at the Crossroads", which has showcased a virtual who-who of the Blues at Blue Heaven Studios.

Marquise was an immediate crowd favorite, and was adopted by all of the elders of the Blues in attendance that year. His obvious talent along with his deep knowledge of the Blues and vast respect for his elders made it clear Marquise had something special, and Kassem signed him to a three album deal.

Knox's debut album MANCHILD was nominated for a Blues Music Award for Best New Artist Debut. The album was recorded when he was 16, in two nights, during an ice storm in a church with the world renowned Michael Burks and his band. There is even a song called Ice Storm on the album. The release received worldwide acclaim, including Living Blues' Best Debut Artist Award and a Blues Music Award nomination for Best Debut Artist. Marquise then recorded a direct-to-disc album while in town for the next year's Crossroads.

Marquise next released his third album, Here I Am, once again recorded at the legendary Blue Heaven Studios in Salina, Kansas. It features Marquise and his band, with a little help from Wayne Sharp of Michael Burk's band sitting in on B-3 and piano. Nine originals, and three reverent covers of Marquise's favorite Muddy Waters tunes.



Roy Roberts — Roy Roberts became hooked on music growing up in a small town in Tennessee, listening to blues and R&B on radio station WLAC out of Nashville. Jimmy Reed's "Baby What You Want Me To Do" was the clincher and at the age of 14, Roy worked on a nearby farm to earn the money for his first guitar, a mail order Sears Silvertone.

When he turned 18, he moved to Greensboro, North Carolina, to live with an uncle. There he had another inspiration to become a professional musician, when he and a carload of friends happened upon a nightclub where Jerry Butler was performing and making quite an impression on the ladies.

Roy sharpened his skills while playing in makeshift bands until he landed a job with local hero Guitar Kimbers' Untouchables. Before long, Roy was backing up major artists who came through town. One of those artists, Solomon Burke, took young Roy under his wing after letting him sit in as a bass player during a local gig. He was soon handling the guitar chores behind the future soul legend on tour. Roberts subsequently picked up touring gigs with such luminaries as Eddie Floyd, "Little" Stevie Wonder, Dee Clark, and Otis Redding, while fronting his own band, The Roy Roberts Experience, on the regional club scene and Southeastern beach town circuit.

Roy began to cut records in the mid-'60s, staying mostly behind the scenes as a session man. The tragic death of Otis Redding inspired him to step up to the microphone with a song dedicated to the late crooner. The record was released on Nina Simone's NinaAndy label and backed by an ace studio band. Roy followed this successful effort with a string of 45's that carried him well into the seventies. During the disco years, Roy turned his talents to country music, touring with the great O.B. McClinton and releasing a number of country records. After a brief hiatus from the music scene, Roy built a recording studio in Virginia in 1989, where he produced records by regional gospel artists and cut a gospel record of his own.

One day in the early nineties, he heard a young Robert Cray singing the blues on the radio. "That cat's got my style," he declared, and got the blues fever once again. Besides recording his own material on Rock House, Roberts has produced albums for the label by Priscilla Price, Lou Pride, Chick Willis, Skeeter Brandon, Floyd Miles, Eddie Floyd, and many more. Roy continues to record and produce records for his label, and tours the U.S. and Europe regularly. After receiving numerous awards, Roy has earned his place among the finest artists playing blues today.



Guitar Shorty




Guitar Shorty, aka David Kearney, was born in Houston, Texas but raised in Kissimee, Florida. As a young boy he would sneak into his uncle's room and try to play his guitar. He was so small his hands didn't fit around it's neck, so he would lean it against the wall and play it like a stand up bass.

When other kids were in high school, Shorty was a student by day and a working musician by night. One evening when he went to work the marquis read, "The Walter Johnson Band featuring Guitar Shorty"; the name he would go by from then on was born.

Right out of high school at the age of 16 Shorty joined Ray Charles and his band for a year. At the age of 17 he recorded a single under the direction of Willie Dixon on the Cobra label. When Shorty was lured away to play with Guitar Slim he moved to New Orleans.

In New Orleans, Shorty fronted his own group that became the house band at the legendary Dew Drop Inn. There he played with greats such as T Bone Walker, Big Joe Turner and Little Richard. It took a job with Sam Cooke to get 19 year old Shorty on the bus and on his way to the West Coast.

Shorty lived and worked in both Los Angeles and Canada until in 1961 he met his wife, Marcia, in Seattle. When Shorty married Marcia he also got Jimi Hendrix, Marcia's brother for a brother-in-law. The young Jimi Hendrix came to see Shorty play often and they were friends until Jimi's untimely death.

Like a Texas tumbleweed, Shorty rolled back to the Los Angeles area in 1971 and Los Angeles has remained his home. He cut his first full album and got his first W.C. Handy Award while living there.

Since that time Shorty has recorded several albums for the Black Top label and is currently signed to Evidence Records. He often jams at local clubs with former members of the Eagles, Steely Dan, and calls local blues artist Keb Mo a personal friend and fan. He continues to capture audiences with his sincerity, energy, and Rocking/Blues style.