Friday, October 16th and
Saturday, October 17th, 2015

Friday Night: Stiefel Theatre
151 S. Santa Fe Salina, Kansas 67401

Saturday Night: Blue Heaven Studios
201 S. Eighth Street Salina, Kansas 67401
785-825-8609
Friday at the Stiefel Theatre:
Alvin "Youngblood" Hart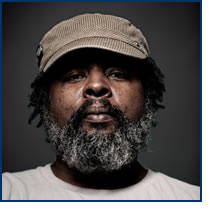 The cosmic American love child of Howlin Wolf and Link Wray! Known as a "musician's musician," Alvin Youngblood Hart's praises have been sung by everyone from Bob Dylan to Brit guitar gods Eric Clapton & Mick Taylor.
Since the release of his 1996 debut recording, the all-acoustic Big Mama's Door, Hart has relayed his eclectic musical message around the world. A devout follower of the "no barriers" approach carved out by veteran performers like Gatemouth Brown and the late/great Doug Sahm, Hart aims to delight the masses and points to challenge the so-called blues purists.
Big Mama's Door was reviewed with blessings by Playboy with the prospect that Hart "had the power to bring the blues to Generation X" also stating that "Charley Patton would approve of Hart's version of "Pony Blues," and the cover of "Gallows Pole" is the coolest since Led Zeppelin's."
Based on the strength of his record debut and the allure of his live shows, Hart received five nominations at the 1997 W.C. Handy Blues Awards. He was nominated and won for Best New Artist, and was nominated as Best Acoustic Artist, and Best Traditional Blues Artist and his album Big Mama's Door was nominated for both Acoustic Album of the Year and Traditional Album of the Year. Hart also received two Living Blues Awards that same year. The anticipated sophomore release of Territory in 1998 gave a rousing tribute to all forms of American music and received the Downbeat Magazine Critics' Poll Award for Best Blues Album (though Territory is not a Blues album).
The summer of 1999 found Hart teaming up with celebrated producer Jim Dickinson to begin recording Start With The Soul, a record hailed as a new-breed Southern Rock classic. Start With The Soul was chosen by The New York Times as one of the top 10 releases of 2000, as well as the BBC's Blues Record of the Year.
In 2001 Hart shared Living Blues Magazine's best guitarist honors with fellow road dog Big Jack Johnson.
The 2003 release of Down In The Alley garnered Hart a Grammy nomination. Hart continued to diversify his audience by extensively touring as a member of Job Cain, a hard-rocking side project he assembled with guitarist Audley Freed (Cry of Love/Black Crowes) and Nashville musician Robert Kearns (The Bottle Rockets/Lynyrd Skynyrd). In August of 2003, Hart was invited to fill in for Taj Mahal for five nights in Tokyo as a member of Kip Hanrahan's Conjure, the world's longest running jazz poetry ensemble. Assembled to lend musical support to the words of Bay Area poet Ishmael Reed, Conjure featured the talents of tenor sax giant David Murray and original Meters guitarist Leo Nocentelli. Hart remains a member of the revolving cast and recorded with the group on Bad Mouth.
In 2004, Hart received a Grammy for his philanthropic contribution to the compilation Beautiful Dreamer: The Songs Of Stephen Foster. All of the proceeds from the recording benefited American Roots Publishing, a nonprofit organization dedicated to preserving American regional culture through literature and art. In 2010 Hart joined forces with friends Luther Dickinson (North Mississippi Allstars, Black Crowes) and Jimbo Mathus (Squirrel Nut Zippers, Tri-State Coalition) to form "The South Memphis String Band". The fun-loving and regaling trio was quickly dubbed by the media as an "acoustic super group." The 2011 Blues Music Awards (The Blues Foundation) nominated the record for "Best Acoustic Album." The group released a second album in the spring of 2012. A third record is in the making.


---
Clinton Broussard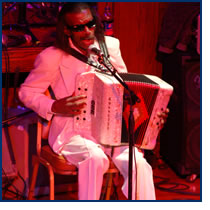 Clinton Broussard has been playing zydeco since he was 8 years old, having learned from his father Delton, the leader of the Lawtell Playboys. Broussard began his own band, Zydeco Machine, from 1979 to 1984. His brother, Jeffery, is also a well-known zydeco artist and was the leader of the famous Zydeco Force. Broussard plays the triple row accordion, as opposed to the piano style favored by others. Broussard, who speaks more French than English, has played through the years with several notable artists, including Roscoe Chenier, Lil' Buck Sinegal and Marcel Dugas.



---
Jimmy D. Lane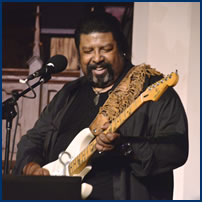 Chicago native bluesman Jimmy D. Lane is the son of the legendary Jimmy Rogers. Like his father, Lane has traveled the world playing the blues. His father was a singer, guitarist and harmonica player best known for his work with Muddy Waters, and then as a solo artist who recorded the hits "That's All Right" and "Walking By Myself."
Lane played guitar on his father's album for APO Records, Blue Bird, which won a W.C. Handy Award for the Best Traditional Blues Album in 1995.
Lane has recorded and performed with a list of musicians too long to list here, but it includes his father Jimmy Rogers, B.B. King, Eric Clapton, Taj Mahal, Jeff Healy, Robert Plant, Jimmy Page, Lowell Fulson, Keith Richards, Mick Jagger, Stephen Stills, Van Morrison and David "Honeyboy" Edwards.
Jimmy performed on The Conan O'Brien Show and in dozens of countries around the world. He also performed for President Clinton and the First Lady in 1998.
Jimmy was also the Music Director at Blue Heaven Studios from 1999 through 2005, where he helped establish the studio as one of the premiere analog studios in world. It has been featured on CBS Sunday Morning, FOX News, CNN News and NPR Radio's "All Things Considered."


---
Gregg Allman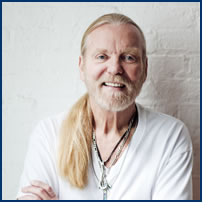 Gregg Allman is on a roll and there's no sign of him letting up in 2015.
The Rock & Roll Hall of Famer and founding member of the Allman Brothers Band has embarked upon an ambitious 2015 tour with his own band, and was nominated for a Best American Roots Performance Grammy Award for his performance with Taj Mahal of "Statesboro Blues" on 2014's All My Friends (Rounder).
Allman is one of rock's most acclaimed and beloved stars, possessing a distinctively soulful voice and singular songwriting ability that resonates through a musical career that spans nearly half a century. Gregg, along with the Allman Brothers Band, was inducted into the Rock and Roll Hall of fame in 1995. At the 54th Annual Grammy Awards in 2012, the group was honored with a Lifetime Achievement Award. That same year, Allman's critically acclaimed tell-all memoir, "My Cross to Bear," spent several weeks as a New York Times bestseller.
In 2011, Rounder Records released Allman's first solo record in 14 years, the celebrated, Grammy nominated, T Bone Burnett-produced Low Country Blues. Then, Rounder put out the critically acclaimed All My Friends: Celebrating The Songs & Voice Of Gregg Allman, the CD/DVD/Blu-ray that captured a multi-generational assortment of musicians from the worlds of rock, blues and country joined together at Atlanta's historic Fox Theatre for a once-in-a-lifetime all-star performance paying tribute to Allman's life and music.
Allman's touring band has been receiving raves from around the world, and features guitarist Scott Sharrard, Peter Levin on keys, drummer Steve Potts, percussionist Marc Quinones, Ron Johnson on bass and horn players Jay Collins (a Portland native), Art Edmaiston and Marc Franklin.
Look later this year for the reissue from Analogue Productions of Laid Back, Allman's smash 1973 solo debut. Recorded in the same year as the Brothers and Sisters album, this solo debut release is described by reviewer Bruce Elder as "a beautiful amalgam of R&B, folk, and gospel sounds, with the best singing on any of Gregg Allman's solo releases." Remastered by Ryan Smith at Sterling Sound in New York from the original analog tapes, this 200-gram pressing by Quality Record Pressings, cut at 33 1/3, replicates the original packaging with a Stoughton Printing old-style tip-on gatefold cover.



---
Saturday at Blue Heaven Studios:
Brushy One-String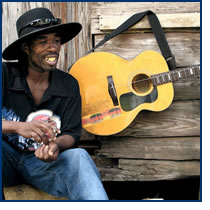 When filmmaker Luciano Blotta walked out of a rural Jamaican recording studio, way off the beaten path of tourists and music hounds, he saw something wildly unusual: a man with an instrument. Even more surprising, the instrument in question—a battered but resonant acoustic guitar—had only one string.
Blotta had encountered Brushy One-String (born Andrew Chin), son of a musical family who despite his challenging life had a seemingly innate ability to inspire and move even casual listeners—including millions of people who have watched and shared Brushy's videos on YouTube.
On his very first studio album, Destiny, released in April 2013, the veteran musician evokes the sweetness of soul singers such as Percy Sledge and Louis Armstrong, the grit and wit of Delta bluesmen, all woven together with a Jamaican pulse and ingenuity that shows that the island's music is about far more than reggae. Heartfelt blues combine with dancehall-style vocals on "Grey in my Blue," while uplifting, catchy ballads like "Life is for Every Man" channel a soulful intensity and profound faith.
 "If we can change the words and melodies and bring back the love, we can have a balance between God and man," Brushy reflects. "That's what we need to put the world together."
Brushy uses the low E string to play walking basslines and the guitar's lower body as a hand drum. His material alternates between patois-heavy dancehall reggae and old-school Rasta spirituality, all of it strong; his voice standing up to the minimal accompaniment.
Brushy did not have it easy: Orphaned at an early age, the thoughtful singer-songwriter did not learn to read until adulthood. But he came by his musical abilities honestly. His father, revered Jamaican soul singer Freddy McKay, passed away when Brushy was very young, but his mother, Beverly Foster, sang all the time (she had toured with the likes of Tina Turner as a backup singer). Brushy tried his hand and voice at many styles, including playing pans on the street as a child. He even played guitar for a while as a youngster. "I didn't really know how to play, and I played so hard, all the strings broke," he recalls. "So the guitar just went under the bed."
That is, until Brushy had a vision, a dream in which he was told to play the one-string guitar. Within a day, Brushy had created his one single-string arrangement of a popular tune on the radio. Audience reaction soon showed that Brushy's unconventional playing style was no mere gimmick. Citing Freddy Pendergrass and Shabba Ranks as major touchstones, his lively mix of influences and full sound—buoyed in part by the string's pleasant buzz, Brushy's array of percussive taps and knocks on the guitar's body—made him utterly self-sufficient. Songs came to him intuitively, based on the life around him. "It's like magic: From the situation, I don't search for something, not in my head or nowhere else. The song just comes."


---
Millage Gilbert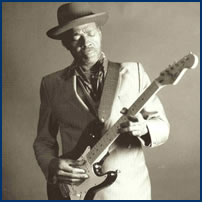 Millage Gilbert arrived in Kansas City from Jackson, Mississippi in October 1962. Kansas laws permitted clubs to entertain until late night turned into early morning. Patrons and musicians who started in a Missouri club could cross the state line when they needed just a little bit more. Gilbert was just in his early 20s and didn't know either side of Kansas City well, but he found the musicians and soon was working several clubs a night.
Gilbert and his Down Home Blues Band have throughout their careers, worked behind national acts such as Bobby Bland, Otis Clay, Johnnie Taylor, Little Milton, Albert King, ZZ Hill and Denise LaSalle. These days Gilbert's band works a Saturday matinee at the 42 Restaurant and Lounge at 43rd and Indiana in Kansas City, Mo. He's also had a long run of weekly gigs on 18th and Vine at Danny's Big Easy. To celebrate his 75th birthday in May 2013 he completed a two-week tour of local gigs, including BB's Lawnside BBQ, and his album Three Faces was repackaged and retitled as The Greatest Hits of Millage Gilbert.
Gilbert's first Kansas City gig was on 12th and Vine at the Last Round Up, followed later by George's on 59th and Prospect, then Blues Alley at 39th and Jackson. For more than 17 years until the Grand Emporium closed in 2004, his Saturday matinees were the destination to chill out from the workweek, then head to the dance floor to kick the weekend into full gear.
Gilbert always looks sharp, carries himself well and is a thoughtful, expressive singer and guitarist who is well-regarded for his deep voice and dogged persistence in playing the blues right and pleasing his audience.
Millage was born as the seventh son of Walter and Doris Gilbert on the 24th May 1938 in Jackson Mississippi.  His grandfather, father and all six brothers were guitar players and Millage began to play by "messing around with my brother's guitar when I was five." All the family loved the blues and they would listen to records by the likes of Broonzy and St. Louis Jimmy or simply play for their own entertainment at home. Two years after beginning to "mess around" he was inducted into his brother Marion's band. And soon, Millage learned harmonica. Downhome blues was hot and the Gilberts were at the top of the neighborhood tree.
Through the 1960's the black blues market in K.C was kicking to the sound of B.B, Albert and Freddie King, Buddy Guy and Albert Collins. Millage had no problem keeping up. For the older clientele there was always Jimmy Reed and the Excello sound. Band members came and went but Gilbert just kept rolling on. He covers nightclubs and bars in Ohio, Nebraska and Missouri where he is a great favorite on the St Louis circuit. He has also taken on festival work appearing at the King Biscuit Festival, The Mississippi Valley Festival, the Kansas City Blues Festival and in 2000 flew to France for a blues festival in Paris.


---
Marquise Knox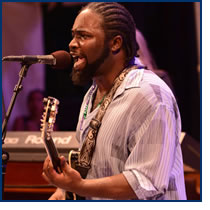 If there is an artist who could be said to truly connect the past, present and future of the blues, it is a 24-year-old bluesman named Marquise Knox. Born and raised in St. Louis with family roots in Grenada, Mississippi, Marquise burst onto the blues scene at the age of 16, astonishing veteran bluesmen and audiences alike with performances that evidenced a musical spirit and understanding well beyond his age.
"The blues was passed to me through the blood," he declares proudly.
He learned guitar from his grandmother, Lillie, a former sharecropper whose ancestors were slaves, and played with his Uncle Clifford, a major influence in his early years. As a teenager, he was mentored by revered St. Louis bluesman Henry James Townsend, a National Heritage Fellow and foundational figure in the history of blues in St. Louis. Marquise has also performed with other blues greats – B.B. King, Pinetop Perkins, David "Honeyboy" Edwards, and Hubert Sumlin, among others. Knox has performed regularly at Blues Masters at the Crossroads, where he's an audience favorite and a close friend to the Acoustic Sounds family.
 Having absorbed from the masters the essence of what made the blues one of 20th-century America's quintessential musical traditions, Knox is carrying the torch into the 21st century.


---
Noah Wotherspoon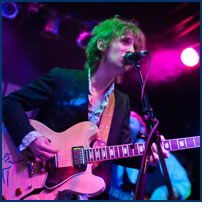 Noah Wotherspoon's 2001 release for APO Records Buzz Me showed that he was more than a baby-faced prodigy in a pack of of today's young, hotshot blues guitarists. The bluesman from Dayton, Ohio may just be the best yet to ride an already-steady-rolling train of young blues talent making names for themselves in the nightclubs and festival circuits today.
This year in Memphis at the International Blues Challenge, Wotherspoon received the Albert King Award for Most Promising Guitarist and the band placed second in the finals.
"This has been a good year for the band," Wotherspoon said, referring to he and his band's success in January at the International Blues Challenge competition. "We placed second as a band and … I was also the recipient of the Best Guitarist Award, which is still surreal to me. That opened some doors as far as playing festivals … so it (also) seemed like a good time to put together a good-sounding record."
Buzz Me featured the late great Hubert Sumlin on two tracks. The album, engineered by David Baker (The Kinks, Allen Ginsberg), reached No. 10 on Living Blues Magazines playlist chart and still garners airplay on Sirius/XM's B.B. King's Bluesville.
During those recording sessions and subsequent visits to Blue Heaven Studios, Wotherspoon met and shared the stage with many of the last of the surviving Delta and Chicago bluesmen including Henry Townsend, Sumlin (former Howlin' Wolf/Muddy Waters guitarist), Jimmie Lee Robinson, David "Honeyboy" Edwards and Little Hatch.
Wotherspoon's newest album Mystic Mud, released in July 2015, was recorded to analog tape at Tom Rastikis' Electric Lulu Land studio; the album features 12 original tracks of blues, swampy ballads, roots rock and a few detours to elsewhere. His band, which includes Rob Thaxton on bass and Brian Aylor on drums, formed in 2009.
"Tom has a Tascam 16-track machine so we recorded everything to one-inch tape," Wotherspoon explained in a recent published interview "It's kind of like taking the stairs instead of the elevator. We'd record a tape and then wait for the tape to rewind. … Tape saturation gives unique quality to the snare, guitar and vocals. I really enjoyed the process. I want to continue making albums that way."


---
Jeffery Broussard
Blues Masters 2015 is bringing you not just one talented Broussard family member — but two! Jeffery Broussard, brother to Clinton, is one of the most influential accordionists and vocalists in modern zydeco music,  and one of the genre's most dynamic performers. He has continually been an innovator, beginning his career with traditional creole zydeco music playing drums in his father's band, Delton Broussard & The Lawtell Playboys, then moving on to develop the nouveau zydeco sound in Zydeco Force, now returning to the more traditional zydeco sound with his own band, Jeffery Broussard and The Creole Cowboys.
Whether he is playing a festival stage in front of thousands of dancers, a small theater of seated patrons, giving an interview, teaching a lesson or playing at a trail ride, his warmth, love of the music, and talent shine. Jeffery Broussard is well, the real deal. Dedicated to preserving and promoting the Creole culture and traditional zydeco music, Broussard plays with passion and commitment to carry on his daddy's legacy.


---
John Primer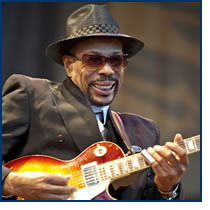 As the title of his critically acclaimed Atlantic Records album suggests, Grammy Award nominee and Blues Music Award Winner, John Primer is truly "The Real Deal." At 8 years old, Primer borrowed his first guitar and started to strum. Before that he played a homemade guitar built on the wall of the house with a broom wire, 2 nails, and 2 rocks to make it tight. With the sounds of Jimmy Reed, Muddy Waters, Little Milton, Elmore James, BB & Albert King reverberating through his Grandmother Laura Nell's tube radio, Primer was instantly hooked. As a young boy, Primer's mother knew he would be a singer, "he came out singing" she would say. John first appeared on stage at the local Baptist church, in his hometown of Camden Mississippi.
At the age of 18, feeling restless and in search of further audiences, Primer migrated to Chicago in the fall of 1963. He quickly found work in an era when Chicago's modern electric blues sounds were first taking shape. Forming his first band, The Maintainers in 1964, Primer and his old Harmony guitar rocked such West Side clubs as, The Place, The Bow Tie, and Lover's Lounge. By 1968 Primer had left The Maintainers when the opportunity arose to front the soul and R&B group The Brotherhood. Jamming late into the night and practicing by day, Primer was forming his own unique style and expanding his repertoire. Primer's success would lead him in 1974 to replace John Watkins in the house band at the world famous Theresa's Lounge on the south side of Chicago. Over the course of the next seven years, Primer would play with such originators as Sammy Lawhorn, Junior Wells, Buddy Guy, and Lonnie Brooks, all innovators sculpting the sound of Chicago Blues.
More blues legends took note of this outstanding performer. Primer went on to stints with Willie Dixon, where he developed skills as as a rhythm guitarist, a lead slide player and a powerful singer. Another blues master who believe in John Primer was none other than the "Hoochie Coochie Man" himself, Muddy Waters. Muddy recruited Primer not only as a guitarist, but also as an opening act and bandleader. Primer stayed loyal to Muddy until Muddy's untimely death in 1983.
Fresh off the heels of his success with the Muddy Waters Band, Primer signed on with the legendary Magic Slim. For the next 14 years, he toured with Magic Slim & The Teardrops, bringing tight, house-rocking sounds to every corner of the planet. While Primer was the bandleader of Magic Slim & The Teardrops, they were voted the best blues band in the world year after year, and are still today thought of as the inventors of "the lump" Chicago Blues sound.
Primer began playing in 1981 at the legendary Checkerboard Lounge on Chicago's south side. He was the house bandleader, holding open jam nights and teaching the next generation how to play the blues until the original club closed its doors in 2001. The veteran bluesman next released his major label album debut The Real Deal in 1995, on Atlantic Records. He also began touring extensively in support of his 12 solo albums to date. Primer formed his independent record label, Blues House Productions in 2008 and released All Original his debut CD and then his second CD Blues on Solid Ground. Those two recordings have been nominated many, many times by the National Blues Foundation, Chicago's Blues Blast Awards, and have won Living Blues Critics Polls as well. His new record label is off to an amazing start. The people love Primer's music and he intends to keep making it for a long, long time.


---