Friday, October 21st and
Saturday, October 22nd, 2016


Friday Night: Blue Heaven Studios
201 S. Eighth Street Salina, Kansas 67401
785-825-8609

Saturday Night: Stiefel Theatre
151 S. Santa Fe Salina, Kansas 67401

Friday at Blue Heaven Studios:
Cedric Watson and Desiree Champagne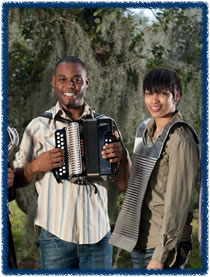 One of the brightest young talents to emerge in Cajun, Creole and zydeco (Louisiana French) music over the last decade, four-time Grammy-nominated fiddler, singer, accordionist and songwriter, Cedric Watson plays everything from forgotten Creole melodies and obscure Dennis McGee reels to more modern Cajun and zydeco songs, as well as bluegrass fiddle and old string band tunes. Accompanying him is Desiree Champagne, playing frottoir (rub board) and triangle.

Originally from San Felipe, Texas, (population 868), Watson made his first appearance at the age of 19 at the Zydeco Jam at The Big Easy in Houston. Just two years later, he moved to south Louisiana, quickly immersing himself in French music and language. Throughout the next several years, Cedric performed French music in 17 countries and on seven full-length albums with various groups, including the Pine Leaf Boys, Corey Ledet, Les Amis Creole with Ed Poullard and J.B. Adams, and with his own group, Bijou Creole.

Watson resurrects the ancient sounds of the French and Spanish contra dance and bourré alongside the spiritual rhythms of the Congo tribes of West Africa, who were sold as slaves in the Carribean and Louisiana by the French and Spanish. Unlike many of his contemporaries, he is also a prolific songwriter, writing almost all of his songs on his double row Hohner accordion.

"We don't want to forget that one of the biggest contributions to our culture, music and heritage was made by the Native Americans. I find that the old Zydeco rhythms sound like a mix of African and Native American ceremonial rhythms. This mélange very possibly came about through the intermingling of the Native American population and the Maroons," Watson says.


---
Albert King Tribute with Noah Wotherspoon, Nick Schnebelen and Jonn Del Toro Richardson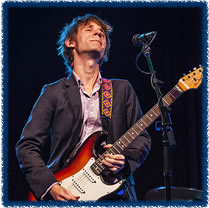 Last year Blues Masters audiences were treated to the phenomenal guitar skills of bluesman Noah Wotherspoon and his band. This year Wotherspoon returns with a true treat for blues lovers.

Wotherspoon won the 2015 Albert King Guitarist Of The Year Award at the International Blues Challenge in Memphis, and his band — Rob Thaxton on bass and Brian Aylor on drums — took runner-up honors in the final round of band competition. For the 2016 Blues Masters at the Crossroads, Wotherspoon and his band are joined by fellow past Albert King award winners Nick Schnebelen of Trampled Under Foot and Jonn Del Toro Richardson of Blue Mercy, in a Tribute to Albert King.

King, of course, was one of the greatest and most important guitarists of all time. Before his passing in 1992 at the age of 69, King not only changed the blues world, but he also influenced most modern guitar playing. The Rock And Roll Hall of Fame inductee was one of the founding fathers of electric blues; in the 1960s he pumped out hit after hit including "Crosscut Saw," and "Born Under a Bad Sign."

Jonn Del Toro Richardson grew up around Houston; Latin music is his birthright — his uncles, aunts and grandparents played in touring mariachi bands and often got together to play on the back porch of his family's home. He regularly plays with Blue Mercy, Diunna Greenleaf's band, and is a favorite of past Blues Masters audiences when Diunna has twice played in our lineup.

Nick Schnebelen is a well-known Kansas City-based roots and blues influenced artist. As the lead guitarist, majority songwriter and co-vocalist of the band Trampled Under Foot, Nick established himself as a heavyweight contender in the blues, roots and Americana worlds of music.

Wotherspoon's 2001 release for APO Records Buzz Me showed that he was more than a baby-faced prodigy in a pack of today's young, hotshot blues guitarists. The Dayton, Ohio native's newest album, Mystic Mud, was released in July 2015.



---
A Mississippi Miracle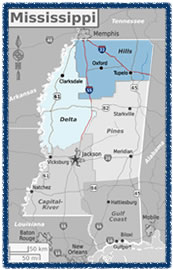 Special Presentation: "A Mississippi Miracle" — Hill Country blues legends unite for Blues Masters at the Crossroads!
The blues and Mississippi are synonymous to music lovers. The Delta is the teardrop-shaped flood plain area in the northwestern quadrant where blues has its roots. The North Mississippi hill country borders Tennessee and lies, for the most part, east of I-55. Hill Country or North Mississippi blues is a regional blues style distinct from its Delta cousin, placing a strong emphasis on rhythm and percussion, steady guitar riffs and fewer chord changes. Its early blue-collar promoters farmed, drove logging trucks, played house parties and picnics, and rocked makeshift juke joints. Here for the 2016 Blues Masters at the Crossroads we've brought together some of the greatest musicians still carrying on the great Hill Country blues tradition today!
---
Bilbo Walker and Sherrod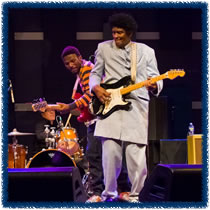 Juke-joint bluesmen Robert "Bilbo" Walker and Anthony "Big A" Sherrod know how to rock a party. Sherrod wrote the title song to the blues film documentary "We Juke Up In Here," while Walker (his father-in-law) is one of the most charismatic 79-year-olds you'll ever meet.

Juke joints — hazily legal music, dancing and drinking clubs — were plentiful incubators for the blues to sprout and grow throughout the country in the '50s and '60s, but by the 1970s rock, R&B and hip-hop had co-opted the Delta blues and many famed bluesmen had moved on to the north and west. Robert "Billbo" Walker, born outside of Clarksdale, Miss., lived the "juke" culture and more. He played the clubs in Chicago, the jukes in Mississippi and road houses up and down the "Blues Highway." Then he took his music to California and started all over again. Walker is a bluesman, a rocker, he sings country — he'll even throw in a bluegrass number just to see what happens. He dresses like Liberace, plays guitar like Chuck Berry and his flamboyant style has made him notorious.

Sherrod and Walker together bust out energetic versions of blues favorites, such as "Crosscut Saw" and "Hoochie Coochie Man," as well as "We Juke Up In Here." Walker offers up his own highly personalized interpretations of blues standards such as "It Hurts Me Too" and "Cut You Loose." Walker never does a note-for-note or word-for-word cover of any song, and instead offers blistering, rough-hewn renditions of well-traveled classics that have become a bit tired in just about anyone else's hands

His stage performances are full of energy, he dances, prances, and revs up the audience. Whenever he comes to town the joint is going to be hopping. Prepare yourself for some blues!



---
Terry Harmonica Bean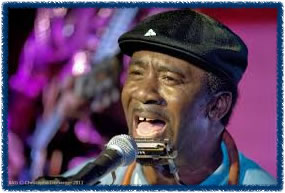 Not surprisingly given his nickname, Terry "Harmonica" Bean plays harmonica, but he also plays guitar. His deft work on harmonica and guitar together makes him an engaging performer with an ebullient personality who never fails to please an audience.
Bean is a lifelong resident of Pontotoc, Mississippi, where his father Eddie Bean taught him how to play blues — and to pick cotton, which Terry and his 13 siblings did to help his sharecropper father stay afloat financially.
In high school, Bean became a star baseball player, pitching both for his school and later on minor league teams, although the possibility of making the majors was eventually dimmed by injuries from two auto crashes. After that, he refocused on music, becoming a mainstay of the blues scene in Greenville, Miss. Bean played both as a one-man band — guitar, harmonica, and foot percussion — and a band leader. He got himself regularly booked at blues festivals, learned to manage his career and get overseas tours, and released several self-produced albums. Bean appears in the film "M For Mississippi" where he mentions his day job at a furniture factory; like many blues artists, he's supported himself with other jobs besides music.
Bean is also in the sequel to "M For Mississippi," the 2012 film "We Juke Up In Here." In the film, Bean notes the decline of the juke joint scene, and says that Red's Lounge in Clarksdale, the club featured in the film, is one of the few that survive.
His music is perhaps what could be called "modern old-fashioned," very traditional but not a museum exhibit. He is an innovator within the scope of tradition.
When he plays Z. Z. Hill's soul-blues hit "I'm A Bluesman," even those familiar with Hill's hit version may not at first recognize it. It's Bean's own creation, an indication as well that, historically and still to this day, as soon as blues reached the urban areas from the rural places of its birth, it was reflected back by the rural players. Terry "Harmonica" Bean is a blues player for all times and places.


---
Leo Bud Welch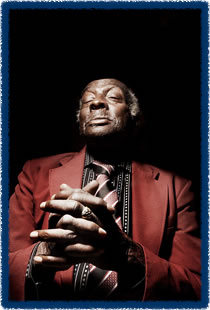 After a half-century of mule plowing and logging, Leo "Bud" Welch made his recording debut in 2013 with Sabougla Voices, a powerful reflection of the hard electric gospel music he's played in the Sabougla Baptist Church and elsewhere for 27 years.

And while churches outnumber juke joints by a wide margin in Mississippi, Welch decided to shake things up with I Don't Prefer No Blues, a throbbing album of distorted guitar and gravelly vocals titled after his pastor's initial response to Leo's stylistic departure. "I know you don't," Welch replied to the clergyman's blues bashing, reports Rolling Stone, "'cause you don't know anything about 'em." Welch saturates blues tunes extemporized largely on the fly, and now he has an international audience to bear witness.

Welch's "chainsaw blues" style hinges on his guitar sounding like a well-oiled Husqvarna — it's a weapon that has killed many a lie and myth, and shared impassioned tales. Born in 1932 in Sabougla, Mississippi, where he's lived his entire life, Welch is one of 12 children. He took quickly to an older cousin's guitar and picked up harmonica and fiddle as years passed. So appropriate, it is, that Welch makes his Blues Masters debut here at the "church of the blues," the renowned Blue Heaven Studios, for Welch's songs are a gospel all their own. Wherever you are, have a sip, tap your foot, stomp with your friends in fellowship — and rejoice with the Lord and Leo "Bud" Welch. Crank it.


---
RL Boyce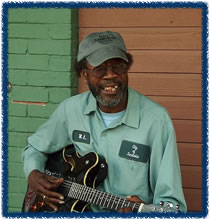 R.L. Boyce was born on August 15, 1955, in Como, Mississippi, where he still resides. It is a community with enduring blues, fife-and-drum, and gospel traditions. Boyce picked up music as a teenager, starting out singing in the church choir and playing percussion in fife-and-drum bands. His earliest issued recording "Late at Midnight, Just a Little Before Day," on Traveling Through the Jungle: Negro Fife and Drum Band Music from the Deep South was made on his 15th birthday, accompanying his uncle Otha Turner. Boyce later adjusted that percussion style to a blues context on a more expanded drum kit, as heard on Jessie Mae Hemphill's classic Feelin' Good album. His singular, bursting-at-the-seams drumming on the first side of that record is a benchmark of loose-limbed groove.

Inspired by his neighbors Mississippi Fred McDowell and R.L. Burnside, Boyce took up the guitar: "Oh man, I loved it. I always wanted to do what they did, so I got along with it," he says.

He was coached by a couple of local musicians including Joe Townsend (whose sole 45 for Designer Records is spellbinding, live-in-the-church gospel blues). Over time Boyce developed an individual style that draws upon songs from the local repertoire and interprets them with considerable enthusiasm and spontaneity. He is of the folk tradition less concerned with "getting it right" than getting it going, and with developing a distinct, individual sound. While regionally popular tunes and lyrics often serve as the bedrock of Boyce's material, he takes them to places that no one else would, often peppering them with lyrics he makes up on the spot, as well as shout outs to his collaborators, his longtime companion Sheila Birge and their daughter Shanquisha, and anyone else who might happen to be in the vicinity.


---
Lightnin' Malcolm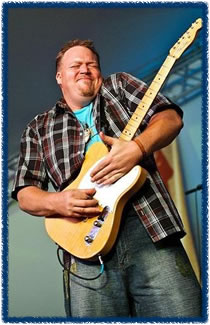 Cutting edge bluesman Lightnin' Malcolm, a charismatic and energetic guitar slinger with a deep soulful voice, has taken his irresistible dance grooves from juke joint teen years as a one-man-band to world stages with mainstream artists such as Robert Plant, Jimmy Buffett, Buddy Guy, Robert Cray, The Black Keys, Widespread Panic, Big Head Todd, North Mississippi Allstars, Lucero, and Gary Clark Jr.

The Mississippi based multi-instrumentalist combines the tribal rhythms and raw electrifying power of the Hill Country blues with melodic songwriting wisdom of heroes Bob Marley, Sam Cooke, Hank Williams, Bob Dylan, and Jimi Hendrix. Malcolm fuses elements of funk, soul, rock, reggae, hip hop, West African world beat, gospel and country to create an authentic signature sound in modern day world roots music.

Malcolm won Blues Music Awards Best Debut Artist in 2009 and has since toured the globe, releasing critically acclaimed albums Renegade and Rough Out There. He is a rhythmic force of nature, with a wild droning guitar style consisting of bass, rhythm, and lead syncopated together into churning tribal grooves that take listeners by storm. His new album Foot Soldier dropped in April on the Mississippi indie label Shakedown Records. Foot Soldier updates Malcolm's relentless, hypnotic, foot stomping grooves and signature melodic songwriting in 11 new songs. Recorded live in the studio, it features Malcolm in his original one-man-band format, playing guitar and foot drums simultaneously in a raw, rock steady full sound that keeps the juke joint rocking.


---
Sunpie Barnes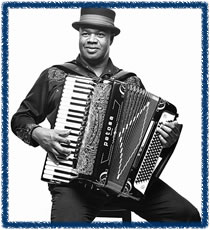 Bruce "Sunpie" Barnes' versatility shines through no matter what musical instrument he's playing, and he plays a stage full. Accordion, harmonica, rub board, piano, talking drum and more — the boy who used to dream in Creole in Benton, Arkansas, now plays and sings in Creole in New Orleans as one of the most prominent musicians in zydeco, a traditional music form originating in southwest Louisiana.

He was born in Gravel Hill, outside of Benton, in 1963 under a prophet sign, according to his grandmother, a Louisiana-born "fix-it lady" who did traditional healings and read stars for people in their community. Barnes' father, Willie Barnes Sr., was a blues harmonica player. "He was raised around people like Roosevelt Sykes and Bill Broonzy — they lived and worked in the same plantations he did," Barnes says. "That's what he was exposed to and that's what he loved to play."

Barnes first heard the magic of music from his dad's harmonica. But Barnes' career path took some twists along the way. Barnes had a brief career as a linebacker with the NFL's Kansas City Chiefs before his lifelong love of music drew him to Louisiana in 1987. "I came down to play some music or try and become a musician, a real one, and to be a park ranger," he says.

He retired in 2015 after 30 years working for the National Park Service, both at Jean Lafitte National Park's Barataria Preserve, and since 1999 as an interpretive park ranger and archivist for the New Orleans Jazz National Historical Park.

Combining a love of blues, zydeco, and West African music, he founded Sunpie and the Louisiana Sunspots to create music inspired by Afro-Louisiana and his travels playing music around the world. He's toured more than 50 countries and played along with a host of the world's greatest musicians, including Sting and Paul Simon but loves sharing his history and that of the music with audiences.


---
Saturday at The Stiefel Theatre:
King Clarentz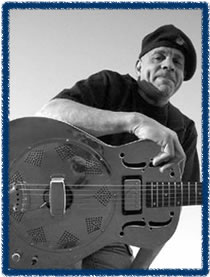 Clarence Brewer, better known as King Clarentz around the Ozark mountain area where he's a fixture of the local scene, mixes the infectious boogie rhythms of John Lee Hooker with the edgier juke joint modalism of R.L. Burnside and up-to-the-minute lyrics for a blend that's both irresistible and unique in modern blues.

Born in 1950, Brewer has developed a strong local following in the Ozarks as a blues performer, sculptor and folk artist. (His woodcuts adorn the cover art of his debut album.) Playing slide on a Sears and Roebuck Silvertone guitar while spinning tales of voodoo, politics gone wrong, the devil's den, fast food killing the populace, and bad women and whiskey, King Clarentz is a totally modern-thinking, cutting-edge bluesman.

But he's far more than just a good-time performer with a backwoods style; Clarence Brewer is a modern artist with much to say and a beautifully raucous way of saying it. From the opening boogie rasp of "Bed Spring Boogie," you just know this is not going to be some paint-by-the-numbers blues show, full of familiar old Albert King licks as filtered through the latest pretender to the throne. By contrast, Brewer's sound is so backwoods he immediately gives the impression that he couldn't find downtown with a road map. But a deeper listen shows an artist writing original blues in the here and now; finely wrought gems such as "Fast Food, Slow Death" and "Old GOP" sport pointed lyrics lurking in power-boogie clothes.


---
Marquise Knox and Big George Brock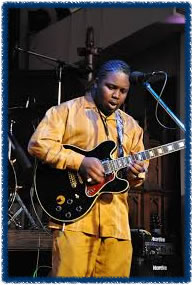 A pair of familiar names — both to blues audiences nationally and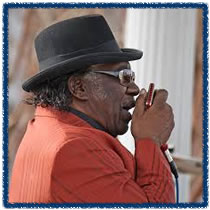 internationally — and certainly right here at home at Blues Masters at the Crossroads, Marquise Knox and Big George Brock have the authentic blues chops. Big George began blowing harp when he was eight, so he's been around — at times sharing stage or studio with the likes of Muddy Waters, Howlin' Wolf, Jimmy Reed, Lee Kizart, Albert King, Hubert Sumlin, Big Bad Smitty, Jimbo Mathus, Watermelon Slim, Steven Seagal and others.

Born in Grenada County, Mississippi in 1932, Brock did not come from a musical family. Of his two parents and 16 siblings, he was the only one who pursued music. His father bought him a harmonica when Brock was nine years old and by age 12, he was performing at Saturday night fish fries with friends Lee Kizart and Big Jack Johnson. Brock was also an accomplished boxer in his youth, not hard to envision when you see this enormous man with catcher-mitt hands. When Brock cups a harp it looks like King Kong trying not to hurt the girl.

Marquise Knox is a once-in-a-generation type of talent with the voice, the songwriting talent, the guitar chops and the showmanship more kin to peers twice his age.

Born in 1991 in St. Louis Mo, Marquise hails from a musical family deeply entrenched in the Blues. He learned how to play guitar from his grandmother Lillie whose family were sharecroppers and whose great, great grandparents were slaves. He also played with his uncle Clifford, who was a major influence in Marquise's life.

He's continued to return to Blues Masters in years since and has recorded three acclaimed albums at Blue Heaven Studios. His debut album Manchild was nominated for a Blues Music Award for Best New Artist Debut.




---
Elvin Bishop and Charlie Musselwhite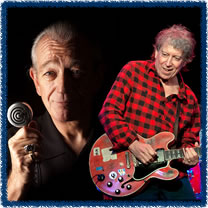 A generation younger than the Southern masters from whom they learned the blues first-hand, guitarist Elvin Bishop and harp player Charlie Musselwhite are now the "old cats," masters of America's folk music.

Bishop, a native of Southern California, has been performing his rollicking brand of electrified front porch blues for more than 50 years (his first professional gig was a guitarist for Junior Wells' band in 1962). He rose to prominence in 1965 as one of two guitarists in the original Paul Butterfield Blues Band. After launching a solo career in 1968, Bishop became a regular on the concert circuit and scored a huge hit with the song "Fooled Around and Fell in Love" in 1976 at the peak of the Southern rock boom.

He and Butterfield first crossed paths at the University of Chicago; the two began sitting in together at black blues clubs, often jamming with Buddy Guy and Otis Rush. Moving on from Chicago, Bishop became a regular at San Francisco's famed Fillmore Auditorium jam sessions, playing alongside Jimi Hendrix, Eric Clapton, B.B. King and many others before embarking on his solo careeer.

Musselwhite may be the only musician to get a huge ovation just for opening his briefcase. Fans know that's where he keeps his harmonicas and they're about to hear one of the true masters work his magic on the humble instrument.

Mussselwhite was born in Mississippi and raised in Memphis, where he witnessed the rise of Elvis Presley, Johnny Cash and Jerry Lee Lewis. He migrated to Chicago, making the acquaintance of even more legends, including Muddy Waters, Junior Wells, Sonny Boy Williamson, Buddy Guy, Howlin' Wolf, Little Walter, and Big Walter Horton. He also forged a lifelong friendship with John Lee Hooker.

In 1966, Musselwhite joined the electric blues explosion with his debut album on Vanguard Records. Since then, he has recorded more than 20 albums and guested on many others. He has won 14 W.C. Handy Awards, has been nominated for six Grammy Awards, received Lifetime Achievement Awards from the Monterey Blues Festival and the San Javier Jazz Festival in San Javier, Spain, and received the Mississippi Governor's Award for Excellence in the Arts.

Together, Bishop and Musselwhite constitute a broad history of the blues, from its acoustic roots to its flowering as urban music in the '60s.


---
Diunna Greenleaf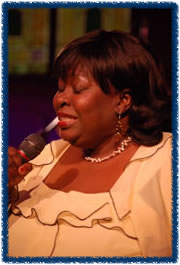 Diunna Greenleaf, of Houston, Texas, has a background steeped in both blues and gospel. She's been influenced by the likes of Koko Taylor, Aretha Franklin, Rosetta Thorpe, Sam Cooke and Charles Brown, and she includes intricate patches of jazz and soul in her performances.

Greenleaf came to the life of professional performing quite late, considering how much talent she had to offer. She worked as a school counselor and occasionally sang rather informally for children's and educational benefits. She and her band played a small show at a hospice in celebration of Houston blues legend Teddy "Cry Cry" Reynolds' birthday. Afterwards, Reynolds told Greenleaf of how he'd known her parents, both gospel musicians, and how she was not only very talented but also had a duty to continue the family legacy of performing. So insistent was Reynolds that he solicited the opinion of his old friend Katie Webster, the Swamp Boogie Queen. Webster confirmed Reynolds' assessment and encouraged Greenleaf to seriously pursue a life in music, even giving her newfound protégé typed rules for forming and leading a band.

In 2005, Greenleaf and her band Blue Mercy represented Houston in the International Blues Challenge, an annual contest in Memphis that features the world's best unsigned blues bands. Greenleaf and Blue Mercy finished first out of 84 bands from 32 states and eight countries. What's more, Blue Mercy's guitarist, John Richardson, earned the Albert King Award for Most Promising Guitarist. From there, the gigs came steadily, and the group's been booked solid ever since.

Greenleaf also served for three years as president of the Houston Blues Society, becoming the first woman elected to that post. As president, she produced the Willie Mae Thorton Blues Festival, bringing in such talent as Texas Johnny Brown, I.J. Gosey, Koko Taylor, Bernard Allison, Mel Waiters and others.

Diunna Greenleaf closed the 2006 Blues Masters and absolutely floored the Blue Heaven Studios congregation. She returned to a thunderous ovation in 2009. So powerful and dynamic and soul-stirring is her and her band's performance that many concert regulars have commented that Greenleaf remains their favorite act through all the years. To say she is back by popular demand is a wild understatement.