Friday, October 26th and
Saturday, October 27th, 2018


Friday & Saturday Night: Blue Heaven Studios
201 S. Eighth Street Salina, Kansas 67401
785-825-8609


Purchase tickets
The shows will be held at Blue Heaven Studios, tickets can be purchased online at AcousticSounds.com or by calling 800-716-3553. This show is General Admission.

Tours of the Acoustic Sounds office, warehouse and Quality Record Pressings plant are from 10 a.m. to 2 p.m. Saturday.
Friday at Blue Heaven Studios: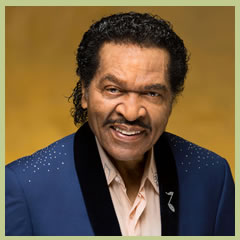 Bobby Rush
He's back!
Bobby Rush earned his first gold record in 1971 with a hit titled "Chicken Heads." His astonishing 60-plus-year career in the blues has been marked by three Grammy nominations (he took home his first Grammy at age 83, in February 2017) as well as 10 Blues Music Awards and 41 nominations. He was inducted into the Blues Hall of Fame in 2006.
For Blues Masters at the Crossroads 2017 we were fortunate enough to have Bobby Rush perform as part of the headlining Take Me To The River - Memphis Soul and Rhythm & Blues Revue, together with Grammy legends William Bell and Charlie Musselwhite. Now settle back, you're about to experience the full-on funk sound of blues from the "King of the Chitlin Circuit."
Rush started his legendary career on the Chicago blues scene in the 1950s. Singer, songwriter, harmonica player and an entertainer deluxe, Rush met and befriended his Chicago neighbor, Muddy Waters, and began working for Jimmy Reed. He performed with both musical legends on the circuit, as well with Etta James and Howlin' Wolf.
"Chicken Heads," which Rush wrote in the early 1970s, reached the Billboard R&B chart, after being picked up from a small label started by former Vee Jay Records producer Calvin Carter. It would become Rush's first gold certified record in 1971, and would later re-enter the Billboard chart 30 years after its release as a result of being featured in the film "Black Snake Moan." He followed up with gold certified albums Sue in 1981 and Ain't Studdin' Ya in 1991. He won his first Grammy in 2017 in the category Best Traditional Blues Album for Porcupine Meat.
He appeared in the film The Road to Memphis, part of the series "The Blues" produced by Martin Scorsese. As a result of the Scorsese film, Rolling Stone magazine named him "King of the Chitlin' Circuit" because of his 50 years of relentless touring and colorful live show. In 2007 he became the first blues artist to perform in China, earning him the title "International Dean of the Blues." Besides touring around the world he's kept busy with film projects; he appears in the 2015 documentary film I Am The Blues. Look for Rush performing on the soundtrack of the upcoming film Dolemite Is My Name to be released in 2019 by Netflix.

---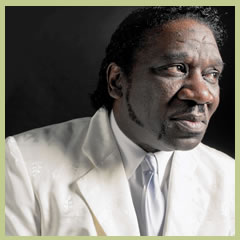 Mud Morganfield
Genetics may have predisposed Larry Williams, aka "Mud Morganfield," to follow his famous father, the great blues icon Muddy Waters, onto the blues stage - but clearly he's got the talent to go with the pedigree.
Morganfield's latest album is They Call Me Mud. Produced by Morganfield and Rick Kreher (who also plays guitar on the album, and was a guitarist in the Muddy Waters band), the album was recorded at Joyride Studios in Morganfield's hometown of Chicago. Morganfield penned 10 of the album's 12 songs, with two others coming from his illustrious father's catalog, "Howlin' Wolf" and "Can't Get No Grinding."
His father holds an exalted place in blues history. Waters was renowned for his blues-playing prowess across the Mississippi Delta, where he was born McKinley Morganfield. Worldwide fame and acclaim for his swaggering, Delta-rooted sound and piercing slide guitar attack came when he left the Delta for the bright lights of Chicago. Larry, aka Mud, his oldest son, grew up surrounded by music, and particularly the blues.
He's played music all his life, starting with the drums his dad gave him as a young child, then moving on to the bass guitar. Morganfield didn't seriously consider being a professional blues musician until after his father's death in 1983.
They Call Me Mud is Morganfield's third album for Severn Records. Son of the Seventh Son (2012) was the first recording that brought Mud into the blues limelight. Mud wrote most of the songs on that album, which was nominated for numerous blues awards and received rave reviews around the world. His last album, For Pops (2014), a tribute to his dad that featured harmonica great Kim Wilson, was showcased on National Public Radio and garnered a Blues Music Award nomination for Traditional Album of the Year.
---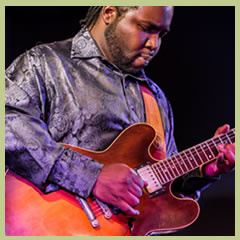 Marquise Knox
As endeared as he has become to audiences at Blues Masters at the Crossroads through the years, Marquise Knox is always working hard to better master his musical craft and showmanship. It's guitar chops and songwriting talent that make him stand out.
Born in 1991 in St. Louis Mo, Knox hails from a musical family deeply entrenched in the Blues. He learned how to play guitar from his grandmother Lillie whose family were sharecroppers and whose great, great grandparents were slaves. He also played with his uncle Clifford, who was a major influence in Marquise's life. He spent his early teenage years in St. Louis mentoring under the late great Blues legend, N.E.A. Heritage Fellowship recipient and Grammy Award winner Henry James Townsend. Marquise's talents have earned him performing rights with some of America's most notable blues performers such as late blues legends B.B. King, Pinetop Perkins and David "Honeyboy" Edwards (the latter two also NEA Heritage Fellows), Lazy Lester and Joe Beard. He has also performed at dozens of festivals, and has toured all throughout Europe.
When you're in St. Louis you can catch Marquise at a variety of his hometown haunts, including: Broadway Oyster Bar, BB's Jazz, Blues & Soups, Beale on Broadway, Big Muddy Blues Festival, and many others. To see his appearance schedule visit marquiseknoxblues.com.
Knox's appearances at Blues Masters are always an audience favorite. His acclaimed albums recorded at Blue Heaven Studios include his debut Manchild, nominated for a Blues Music Award for Best New Artist Debut, his sophomore release Here I Am, and a self-titled, two volume direct-to-disc solo effort and duo recording with Lazy Lester.
---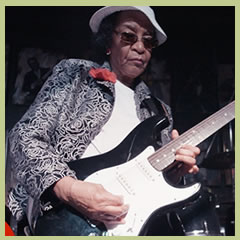 Beverly "Guitar" Watkins
Beverly Watkins plays a mean blues guitar, and that's putting it mildly. Over six decades of performing, the 79-year-old has opened for Ray Charles, James Brown, BB King and other legendary musicians. She's one of the greatest female blues guitarists, and still plays local gigs in Atlanta, where she was born in 1939.
Watkins is a pyrotechnic guitar maven whose searing, ballistic attacks on the guitar have become allegorical tales within the blues community. She discovered music through her mother's gramophone. Listening to records by Ma Rainey, Bessie Smith, and Memphis Minnie she began to play guitar at age eight, studying with several of her aunts. As a junior in high school, she was introduced to the bandleader Piano Red and soon joined his backing band, which eventually came to be known as The House Rockers. They gigged at local clubs, performed at colleges in the region and eventually started to tour nationally. They opened spots for James Brown, Ray Charles, and many others.
In 1965, she hooked up with Eddie Tigner from the Ink Spots and later joined up with Leroy Redding, working with him into the late 1980s. She made another breakthrough by creating a residency for herself at the nightclub Underground Atlanta. The Music Maker Relief Foundation soon booked her on the all-star Women of the Blues "Hot Mamas" tour in 1998 and released her first album "Back in Business," which received a W.C. Handy Blues Award nomination in 2000. Lately she has appeared with musician Harry Connick Jr. on his nationally syndicated daytime talk show, as well as with TV host Steve Harvey on the show "Little Big Shots: Forever Young."
She has toured internationally, and her reputation as a live performer is unmatched; as she observes, "When I get on stage, it's electrifying. I light up and get into the crowd. That's what I call ministering to the public."
---
Saturday at Blue Heaven Studios: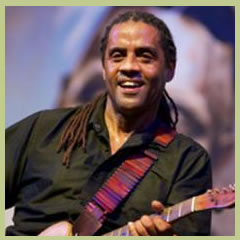 Kenny Neal
Born in New Orleans in 1957 and raised in Baton Rouge, Louisiana, Kenny Neal began playing music at a very young age, learning the basics from his father, blues singer and harmonica player, Raful Neal, Jr. Family friends like Lazy Lester, Buddy Guy and Slim Harpo also contributed to Kenny Neal's early musical education. In fact, it was Harpo who gave the crying three-year-old a harmonica to pacify him.
Neal is known as a modern swamp-blues and multi-instrumentalist, drawing deeply from the sizzling sounds of his native Louisiana. His 2016 release, Bloodline, was nominated for a Grammy for Best Contemporary Blues Album and also won two BMAs (Blues Music Awards); one for Best Contemporary Blues Album and the other for Best Contemporary Male Blues Artist.
Known by his moniker the "Real Deal," Kenny Neal is one of the strongest modern proponents of Baton Rouge Swamp Blues. At 13, he joined his father's band and began paying his musical dues. Four years later, he was recruited to tour extensively as Buddy Guy's bass player.

Following Guy's advice to concentrate on his guitar playing, Neal relocated to Toronto, and along with his brothers Raful, Noel, Larry and Ronnie formed the Neal Brothers Band, honing his chops backing up visiting blues stars. Later, he fronted Canada's Downchild Blues Band before returning to Baton Rouge to begin his solo career.

Signing with Alligator Records in 1988, Neal began releasing a series of consistently lauded albums featuring his laid-back, Baton Rouge blues, with a modern spin on the Louisiana sound he grew up with. Throughout this period, he distinguished himself as one of the brightest prospects of the contemporary blues scene, receiving critical acclaim in the process. The Chicago Tribune pegged Neal as "one of a mere handful of truly inventive young contemporary guitarists, Neal has something fresh to say and the chops with which to say it," while All Music Guide said his "gruff-before-their-time vocals retain their swamp sensibility, while assuming a bright contemporary feel that tabs him as a leading contender for future blues stardom." Blues Revue agreed, calling Neal "one of the brightest young stars on the blues horizon, and a gifted artist."

After his impressive run with Alligator, Neal moved to Telarc and continued to release albums highlighting his developing skills as a songwriter, as well as interpreting songs from musicians as diverse as Bob Dylan, John Hiatt and Nick Lowe. His 2004 release with Billy Branch, Double Take, garnered Neal a W.C. Handy Award in 2005 for Best Acoustic Blues Album.
Kenny Neal, a true living blues Legend is THE REAL DEAL and more poised than ever to deliver the blues like no one else can!
---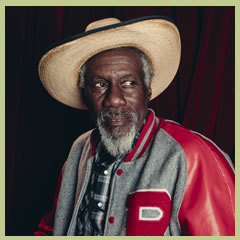 Robert Finley
Robert Finley is the soon-to-be legendary soul singer behind the lovelorn bombast of "If You Forget My Love," and the soul-stirring "Medicine Woman," both off the Black Keys singer Dan Auerbach-backed 2017 album Goin' Platinum.
Hailing from Louisiana, he mixes a Memphis-to-Texas electric southern grit with Nashville-clever songs. He's gangly and graceful with an indomitable smile that radiates beneath his black ridge-top hat. "I don't believe in doing a lot of holding back," Finley says, "I'm going to give you everything I've got."
Finley came up singing gospel, the only kind of music his parents would allow. His palette expanded quickly, however, through hanging out with older guys and trying to meet the demands of impressing the opposite sex. At 11, he took some money his father had given him to buy shoes and bought a guitar instead. With his friends, he starting making stuff up-rhymes and melodies, "whatever it took to keep the girls around," he says.
He got more experience plying his trade as a guitar player and bandleader while serving in the U.S. Army, joining in 1974 at age 19. By the time he was deployed, the Vietnam War was winding down and he added another specialism to his army duties - entertainment. He played social events at U.S. bases in Europe.
"A lot of James Brown stuff, BB King, Temptations, Staples Singers. If somebody in the band knew the song, we used it," he says.
His time in the military ended; time passed, with various jobs in carpentry supporting his existence. Someone from the Music Maker Relief Foundation spotted him busking, which led to a debut album, Age Don't Mean A Thing, in 2016.
Finally, the big break came, when a friend of Black Keys singer Dan Auerbach sent him a clip of Finley playing. Auerbach was convinced this unknown guy was "one of the best singers ever" and approached him about working on a soundtrack to a graphic novel, "Murder Ballads." Auerbach then signed him to his Easy Eye imprint, pairing him with the cream of southern soul and R&B session musicians for the brilliant 2017 album Goin' Platinum! (Nonesuch Records), a record that sounds as if it could have come from any year between 1964 and today, and has made him a minor sensation at the age of 65. Since that break, he's been profiled in the pages of Rolling Stone, and has a solo gig upcoming on TV's "Austin City Limits."
Auerbach wrote the songs on Goin' Platinum! for Finley, giving him 10 numbers that suited his gravelly, rasping voice to the ground. "He was like: 'This is the story, tell it your way.' I always wanted to be an actor anyway, so all I had to do was become that person. There was a lot of things I had given up on that came alive, and when I heard the music I loved the music. It was the grace of God that brought us together." The experienced studio professionals fretted they were working Finley too hard, tiring him out. But no. "I was just tired of waiting for this opportunity."
Finley chuckles. "Maybe the girls are smiling a little longer, but other than that everything's the same." All he wants now is to win some Grammys, just like his friend Dan. And who's to say he won't get a fairytale ending - another one?
---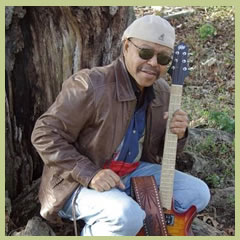 Larry Garner
Larry Garner was comfortable in the 9-to-5 routine of commuting to his day job, and making a good salary working for Dow Chemical. On his drive home one night, he was forced to take an alternate route. "There was an accident on the interstate, and I took a detour to avoid it," remembers Garner. "I drove by this place that had a sign outside on wheels, with a couple lights that said, 'Blues Jam Tonight.' I went in, and they said to be back at 10 that night. I went home and told my wife about it. She said, 'You know you've got to go to work tomorrow.' I went anyway, played, and got home at 2:30 in the morning. That was Tabby's Blues Box."

The scene at the legendary Baton Rouge blues hotbed was a marked contrast to the occasional weekend gigs Garner was playing at the time. It was the early 1970s, and Garner had just returned from a three-year tour in the army. "There were no gigs," he remembers. "It was all disco. There were occasionally American Legion gigs or weddings or rent parties. I played in my garage. I took a job with Dow Chemical, and I rarely played in public."
Whether fate or destiny ultimately intervened, Garner eventually found renewed passion and an audience. Garner is a five-time Blues Music Award nominee, once for Most Promising Artist, and four times for Contemporary Male Blues Artist.

Garner was inducted into the Louisiana Blues Hall of Fame in 2002. The BBC honored him as its Bluesman of the Year, and Garner was honored as Blues Songwriter of the Year three times. Garner was twice named Bluesman of the Year Award by Real Blues Magazine.
He's played at festivals and venues around the world, including Abu Dhabi Jazz Festival, Alvaston Blues Weekend, Belgian Rhythm'n'Blues Festival, Bricktown Blues Fest, Burnely Blues, Big Wheel Blues Festival, Biscuits & Blues, Blues by the Sea, BLUES Chicago, Blues from the Top, Blues on Grand, Bluesnight, Bradfordville Blues Club, Buddy Guy's Legends and numerous other top venues and events.

Garner started moonlighting for the first few years he played out at Tabby's Blues Box. He met such Baton Rouge bluesmen as Silas Hogan, Whispering Smith, Arthur Kelly and Raful Neal. He occasionally played in New Orleans at Rhythms on Bourbon Street, or with Bryan Lee at the late, lamented Old Absinthe Bar. One night, hanging out at Tabby's with Kenny Neal, Neal encouraged him to consider music full-time; later, serving the U.S. Army in Korea, he steeled himself for the life of a touring musician.
Leaving Dow Chemical was initially tough for him, but now he has a devoted following throughout the country and across the Atlantic Ocean. "I'm on tour all the time," he says. "I go to Europe and England a few times a year. Over there they really like my original stuff. They hear guys playing the blues, but when I come in, they come right up and say, 'Thank God - a real blues band.' We take it for granted here. They're really appreciative there, and so am I.
---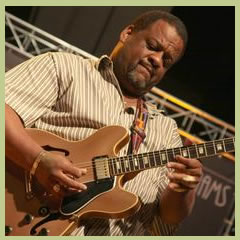 Lil' Ray Neal
Baton Rouge blues singer-guitarist Lil' Ray Neal served as sideman to blues and rhythm-and-blues legends for nearly 40 years. He's been a supporting player for John Lee Hooker, Big Mama Thornton, Muddy Waters, James Cotton, Little Milton Campbell, Bobby Rush and Bobby "Blue" Bland. In recent years, he worked with B.B. King, the blues great who died May 14, 2015 at 89.
And he's made the transition from sideman to frontman. With so many of the great bluesmen gone, "I've got to go out there and do it," he says.
In 2015 Neal released his album Nothing But The Blues. It showcased him as a singer-songwriter as well as a guitarist. His growing profile was highlighted by the Baton Rouge Blues Foundation, who named him its first Red Stick Blues Award honoree. The award recognizes outstanding Baton Rouge Blues musicians.
Neal was born Raful Neal III, third eldest of 10 siblings, just outside of Baton Rouge, Louisiana. His decades with the blues began when he and his brothers performed largely in the Baton Rouge area with their father, singer-harmonica player Raful Neal. By 1979, the Neal brothers, then still in their teens, were touring as blues-and-boogie star Hooker's band.
Already awed by Hooker, the young men were even more amazed when their boss man introduced them to his friend, soul star James Brown. The young men from Baton Rouge couldn't believe their ears when Brown and Hooker launched into a high-spirited, backstage cussing session.

In 1981, the Neal brothers toured with Big Mama Thornton, the R&B star who made the first recording of "Hound Dog." She promised their daddy in Baton Rouge that she'd give them a whooping if they misbehaved.
Neal met B.B. King at a 1982 Father's Day concert at the Baton Rouge River Center. He asked King if he could play the blues master's guitar, Lucille.

"I said, 'Man, I'd sure love to play Lucille.' B.B. said, 'Go ahead, man. Pick it up.'" Neal later worked as opening act for King and he performed every year at the annual B.B. King Homecoming Festival in Indianola, Mississippi. After King's death at 89 in May 2015, Neal played for the homecoming and at the funeral for King that followed a week later.
Neal's never been one to blow his own horn, still he's grown comfortable stepping out of the shadow of his much better known big brother, Kenny.

"A lot of stuff that was done here in Baton Rouge, people think it was Kenny," Neal said. "But Kenny wasn't here. That was me. I stayed with my dad longer than any of my brothers. Kenny left, then Larry and Noel left. But I was here between Little Milton and all of them. I'd come home, play with my daddy for a month, till I go back on the road. That was me doing all that."
---