The Inside Story of The Bob Margolin All-Star Blues Jam
by Bob Margolin as appeared in Blues Revue magazine, issue No. 83 Aug/Sept 2003
"Records are like sausages: The less you know about how they're made, the more you enjoy them." I'm sure that's always true for sausages, but making my new album was an exception. Here's the story behind it, and how I got to Blue Heaven.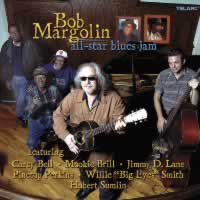 Blue Heaven Studios, that is, in Salina, Kan. Most of the album was recorded there, at a concert and two days live in the studio. It features Chicago Blues stars Pinetop Perkins, Carey Bell, and Willie "Big Eyes" Smith and introduces my upright bass/harp player/singer Mookie Brill, who deserves wider recognition. Two acoustic songs were recorded at my house, featuring guitar legend Hubert Sumlin and Mookie on harp. All these musicians "play it like they feel it" in the moment, every time. Instead of trying to stuff their spontaneous spirits into the small boxes of planned song arrangements, I wanted to see where we'd go just jamming – those players, that time, that place. We're all traditional players, but this approach for recording presents us in a fresh, open context. You'll find some surprises, unexpected twists, and, I confess, some unpredictable endings. The music speaks for itself, but you may enjoy it more if you do know how it was made.
I had intended my next album to be home recordings, created and crafted slowly without the usual pressures of studio time and money. But in June 2002, my drummer made himself scarce. I took that as an opportunity to hire Willie "Big Eyes" Smith, my old friend from Muddy Waters' band, to play drums on my long-distance gigs and be featured as the blues legend he is. Willie was a perfect and valuable addition to the Chicago Blues revues I'd already been putting together with Pinetop, Carey, and Hubert. I soon realized there would never be a better time to record an album featuring these musicians and the special way we play together. Except for the ageless Pinetop, we're not getting any younger.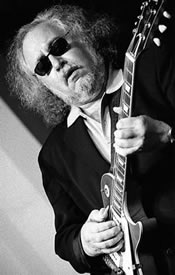 Mutual friends suggested that I contact Chad Kassem at Blue Heaven Studios because we both love nasty old blues. I'd read about Chad in Stereophile magazine and the blues press. His Acoustic Sounds company is a retailer of high-end audio equipment and high-end vinyl and digital recordings. His label, APO Records, makes audiophile recordings of great blues players. His annual Blues Masters at the Crossroads concerts at Blue Heaven are special events in both the blues and audiophile worlds. I e-mailed Chad and we instantly hit it off, having so many common interests. We wanted to work together.
My booking agent, Steve Hecht at Piedmont Talent, suggested that I approach Telarc Records with my project. I'd been a guest on a few Telarc albums in the '90s and I'd always been impressed with the label's dedication to quality music and sound. Rob Saslow from Telarc responded enthusiastically to my proposal for an album featuring Chicago blues stars jamming. I submitted a realistic budget that included recording at Chad's Blue Heaven Studios and paying the musicians respectfully. Telarc approved the budget and offered a contract, and I hired entertainment lawyer Jay Rosenthal, a champion of artists' artists' rights, to look it over. He negotiated only minor changes – Telarc is artist-friendly while being fair to itself. I was grateful to Telarc, and soon was even more so.
We were devastated last fall when Hubert was diagnosed with cancer and had to have a lung removed. He was unable to be at the recording sessions in December, but I still wanted him on the album somehow. Among my recently-shelved home recordings, I had captured Hubert's blues magic on an acoustic guitar, with me singing and playing and Mookie playing harp. Since my "concept" of the album was "experienced musicians jamming," I thought that these two recordings could be Hubert's contribution. Fortunately, Telarc agreed. I was also able to pay Hubert well at a time when he couldn't work, for music he'd already made. Thank God, Hubert has since recovered beautifully.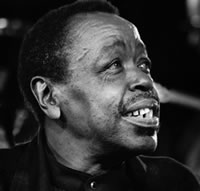 We arrived at Blue Heaven Studios in mid-December. I had thought the name "Blue Heaven" might be a little dramatic...until I walked into the building. Chad had bought an old church to be a warehouse for his thriving Acoustic Sounds company. (He is the largest retailer of audiophile vinyl and SACDs.) He soon recognized that the church had a majestic natural echo to match its spiritual atmosphere, so he transformed it into a concert venue and recording studio. Since 1997, Chad has presented some of our greatest blues legends in concert and recorded them for APO Records: Pinetop, Willie, Hubert, Carey, Honeyboy Edwards, Jimmy Rogers, Jimmie Lee Robinson, Henry Townsend, Snooky Pryor, Gatemouth Brown, Billy Boy Arnold, Robert Lockwood Jr., Carol Fran, John Hammond, Sam Lay, Henry Gray, Lazy Lester, Frank Frost, Little Hatch, and Detroit Junior. I loved the sound of the room and the concert setup for blues fans, who come from all over the country to enjoy these fine artists in this prime setting. Blue Heaven, indeed.
Our concert there presented me with a special personal opportunity as well. In December 1997, my friend Jimmy Rogers passed. The late Hollywood Fats introduced me to Jimmy in '73, right after I joined Muddy's band. Jimmy had defined my guitar job in Muddy's band 25 years before that and was a Chicago blues legend himself. Jimmy's friendship became as deep for me as his music. As my plane descended into Chicago for his funeral, I was moved to write a mournful blues for him. I recorded it in 1999, but I always felt it would be most appropriate to play it with Jimmy's bluesman son, Jimmy D. Lane. Jimmy Rogers and Jimmy D. had recorded albums for Chad's APO label, and Jimmy D. had actually moved to Salina to be musical director at Blue Heaven. On the night of our concert, Jimmy D.'s band opened with a powerful set of contemporary blues. I hadn't seen him since the funeral. When it was our turn to play, I walked out alone, told this story, and invited Jimmy D. back onstage to play "Mean Old Chicago" with me, standing on either side of a picture of his smiling father. It was the first song we recorded for the album and there were some technical problems, but I wouldn't record it again – the spirit was with us at that moment and I didn't want to fake it later. If I've ever played blues, that was it. I wanted the whole album to live up to that moment.
The most honest way to capture spontaneous jamming is to record "live-to-stereo" with no overdubbing, or fixing the performances, later. This reflects the spirit of the music, but eliminating the multitracking and mixing steps puts pressure on the engineer to get the balance right as the song is played. To meet this challenge, I brought in Mark Williams, the best recording engineer I know. Mark's ears and experience shape the sound of this album as much as anything we played. Chad also arranged with Telarc to have the album recorded direct to the newest breakthrough in recording: Sony's proprietary Direct Stream Digital (DSD). Dawn Frank from Sony engineered the DSD recording, which contributed a noticeable improvement to the clarity and realism of the final CD's sound. I think we found the best of old and new recording approaches: recording direct, as our favorite old blues records were made, but employing the most advanced, accurate recording medium available today. I hope you'll find that though this album reveals some flaws and mistakes, they are interesting in the context of our experienced presentation of Chicago blues. The phrase "keepin' it real" is popular right now, and I think this album is as "real" as a recording can get.
Pinetop Perkins, Carey Bell, Willie "Big Eyes" Smith, Mookie Brill, and I all have been sidemen and bandleaders. I invited each of them to choose and sing two songs for the album. Pinetop's small repertoire has become so familiar recently that we wanted to find songs he hadn't done before or hadn't done often. He sang "Sweet Little Angel," which we had recorded in the '90s on an album that wasn't released domestically. Pinetop rendered a magic take where everything comes together perfectly. He'll break your heart with this one, and he's playing on Blue Heaven's expressive Steinway grand piano, every nuance revealed by Neumann microphones.
Pinetop now declines to play on Sundays, but we invited him to hang with us on the Sunday we began the studio sessions. Pine walked right over to the piano in the church and began to play…gospel music! I've known him for 30 years, and I've never heard him do that. The album closes with Pinetop's instrumental "Just A Closer Walk With Thee."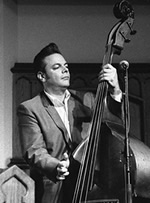 Willie recorded his version of Little Walter's "Juke," playing harp and drums at the same time, and sang two original Chicago Blues songs. Carey was spectacular — everything he played that weekend, including outtakes, was ultimate Chicago blues. He is, of course, known for his harp playing, but check out his deep blues singing. Mookie sang a soulful, sensual, romantic version of Bobby Bland's "I'll Take Care Of You" and an original, "My New Baby Owns A Whiskey Store." He certainly does justice to his cool song title. I sang three originals and three of my favorite Chicago blues. On one of my home recordings, Hubert and I play "Goin' Down Slow," which was done so well by our old bosses, Muddy and Howlin' Wolf.
The influence and spirit of Muddy Waters and Jimmy Rogers are evident throughout the album. We all played many gigs with Jimmy, and except for the younger Mookie and Jimmy D., we all were in Muddy's band. Their conception and creation of Chicago blues is our foundation. Beyond studying their recordings, we learned from them directly on the bandstand. Somewhere in another Blue Heaven, not in Kansas anymore, I hope Muddy and Jimmy are smiling at our progress.
(If you would like to read about this album in more detail, the liner notes are available at www.bobmargolin.com.