For the fifteenth year, Blue Heaven Studios will host the world-renowned Blues Masters at the Crossroads, a two-night concert housed in a converted church sanctuary. You've never been to a concert like this!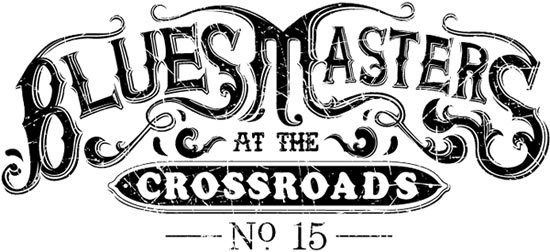 Friday, October 19th
Saturday, October 20th, 2012
Doors Open at 6:45 p.m.
Shows Start at 7:15 p.m.
Blue Heaven Studios
201 S. Eighth Street
Salina, Kansas 67401
785-825-8609
Friday, October 19th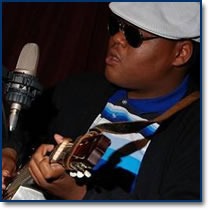 Jerron "Blind Boy" Paxton
Like a sepia-toned photo from the 1930s come to life, Jerron "Blind Boy" Paxton not only looks the part of a rural bluesman — ala Robert Johnson — his music is as authentic as the rich history of the blues itself.

Paxton, one reviewer wrote, "looks like he's playing the part of a bluesman in a Hollywood movie, dressed with theatrical retro-schtick, with a Derby hat and overalls. The tall, corpulent young man almost looks like a young Willie Dixon ..." But amazingly, the critique notes, "he's not just the real deal, he may be the most sensational newcomer in the blues in many years."

Meet Jerron Paxton — a fine singer, busker and itinerant bluesman — the living embodiment of the true blues in the 21st Century. Blind at 16, he's the real-life son of Robert Johnson's cousin, so perhaps blues runs in the blood. He picks banjo and guitar, plays harmonica, piano and other instruments.

He's a terrific storyteller, a wonderfully skilled musician — a witty, poetic and exciting entertainer. He hails from a Creole family in Watts, South Central Los Angeles, but his people come from Louisiana. He's the whole package — and not yet 24 years old.

Paxton is often cited to have said that at the age of 15 — about the time he started to go blind — that he just didn't like anything written after 1934. He raised himself on 78s. He says, "All I do is play music; I'm too lazy to work."

He identifies with the Piedmont tradition and its ragtime influence. Country blues fans will find in Paxton's repertoire snatches of Blind Boy Fuller, Gary Davis, but also the swampy blues of Louisiana and the Mississippi Delta. In all, it's a vivid and passionate throwback to blues' very roots.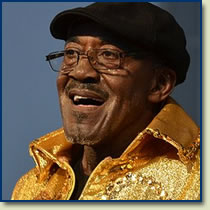 Ironing Board Sam
Cheap, nah. Resourceful? Sure! Ironing Board Sam didn't have the regular legs to support his electric keyboard, so he improvised and used an ironing board stand, which he hid with a drape.

The year was 1959 and the young performer had just moved to Memphis from South Florida, where he'd formed his own group and worked small nightclubs.

Club goers didn't take long to satisfy their curiosity about what the drape concealed. When they peeked under the drape, Sam was teased; he was tagged Ironing Board Sam and the name stuck. One of the clubs where he regularly played even gave away a free ironing board on the nights he appeared.

Born Sammie Moore, in 1939 in Rockfield, South Carolina, Sam learned to play the organ as a youngster. He concentrated on boogie-woogie and gospel music before turning to blues while playing in Miami, Florida. In the mid-1960s Ironing Board Sam tried to audition for both the Stax and Hi labels, but they responded that they had more than enough artists to work with. Sam played around Chicago for about a year, before Earl Hooker got him a lucrative gig at Jimmy Hunt's Lounge in Waterloo, Iowa. A year and a half later Sam moved to Los Angeles for five years before returning to Memphis in 1973.

His music has appeared on several labels including Holiday Inn, Atlantic, Styletone and his own Board label. By the late 1980s he was playing Bourbon Street clubs and remains based in New Orleans today.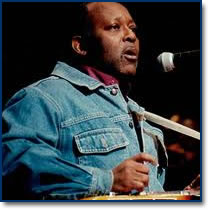 Calvin Cooke Backed by the Campbell Brothers
Calvin Cooke will tell you he's passing on the Lord's message through his music, but what a delivery! Mercy!

Nashville country steel guitarists have dubbed Cooke the "B.B. King of gospel steel guitar." It's a new kind of high energy Gospel music that blues and jam band fans can't seem to get enough of. Yet until recently, Cooke, was one of Detroit's best kept secrets, even though he has been performing at the House of God on the city's east side for the past 45 years.

Cooke was born in 1944 in Cleveland, Ohio, into a musical family that belonged to the Church of the Living God, Jewell Dominion, which had a strong steel guitar tradition.

A family member bought young Calvin a black six-string guitar, but his fingers were too small to play it. So he got the sound he wanted by using a knife as a slide. His mother eventually bought him a steel guitar at a local pawn shop.

Cooke eventually fell under the influence of Jewell music and Bishop Henry Harrison. Harrison was a carpenter and together they helped build churches by day. By night Cooke played and sang while the Bishop preached. Elsewhere at the same time, a distant cousin — Sam Cooke — had "crossed over" from Gospel to popular music and was becoming a star on AM radio and on TV's "American Bandstand."

Calvin Cooke traveled with church elders constantly and played almost daily in public for decades. It's no small wonder that today he's widely considered the most influential living pedal steel guitar master with the Sacred Steel tradition. Cooke, Ted Beard and Aubrey Ghent will perform, backed by The Campbell Brothers, on Friday night of the Blues Masters. Read more about the Campbell Brothers.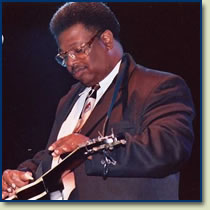 Aubrey Ghent Backed by the Campbell Brothers
Playing lap steel guitar for 38 years has made Aubrey Ghent a true legend and master artist in his own right!

The steel guitar was first introduced to the House of God Church by Aubrey's uncle, Willie Eason, during the 1940s. Eason and his "talking guitar" taught Aubrey's father, Henry Nelson, who played for more than 50 years in the church and around the United States.

Ghent, born in 1959 in Fort Pierce, Florida (now living in Nashville, Tennessee), was greatly influenced by his uncle and father and at the age of 6, Ghent developed a great passion for the lap steel. His first guitar was a Truetone rhythm model and he used a Truetone amplifier, but Ghent wasn't satisfied. He used a No. 16 nail under the strings to raise their height (as he had seen someone else do) in order to use a steel bar and play the guitar as a steel. His two grandfathers, Bishop W.L. Nelson and church Elder Eugene Ghent, bought him his first steel guitar and amplifier about six months later. After three years and much practice, he began playing for church services at age 9. His skills were so amazing, he began playing for services at other local churches and venues. Soon he was traveling to other cities and states playing his steel.

Ghent has won national acclaim for his unique gospel style and highly skillful techniques. Once you experience Ghent's phenomenal performance your impression of the lap steel guitar will never be the same! Ghent was named Most Outstanding Lap Steel Musician of the Year in 2008 by Living Blues Magazine.

Beard, Calvin Cooke and Aubrey Ghent will perform, backed by The Campbell Brothers, on Friday night of the Blues Masters.
Read more about the Campbell Brothers.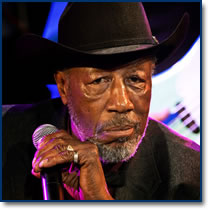 Tail Dragger
Tail Dragger is lowdown and dirty real deal Chicago blues at its best. James Yancy Jones, aka the Tail Dragger, is a long-time disciple of Howlin' Wolf: In fact, the Wolf gave James the moniker "Tail Dragger," drawn from one of the Wolf's now-classic songs.

The Tail Dragger tracked Wolf from club- to-club, watching and getting pointers from the larger-than-life Howlin' Wolf for more than 20 years. The Wolf allowed
"The Dragger" to perform his blues while Wolf took a break on weekend shows. Soon "The Dragger" was playing his own numerous club dates on the West and South Sides of Chicago. A number of local West Side and South Side blues artists, including Hubert Sumlin, Carey Bell, Eddie Shaw, Mack Simmons, and Willie Kent, got their start playing in Tail Dragger's bands.

Tail Dragger was born in 1940 in Altheimer, Arkansas, and during his formative years he saw Sonny Boy Williamson and Boyd Gilmore perform at house parties and country suppers. Dragger soon heard the records of Jimmy Reed, Muddy Waters and Elmore James and his musical tastes were set in stone.

Tail Dragger remains intensely loyal to his early influences. The Tail Dragger, by his own admission, sings only lowdown blues. "Lowdown blues is all I like...All I feel...and I sing what I feel," flatly states The Dragger. "It's like I get into a trance when I sing the blues, I forget about everything else. Nothing else matters."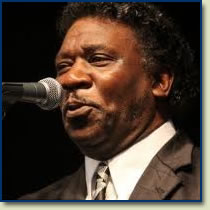 Mud Morganfield
Genetics may have predisposed Larry Williams, aka "Mud Morganfield," to follow his famous father, the great Muddy Waters, onto the blues stage — but clearly he's got the talent to go with the pedigree.

His debut album on the Severn Records label, Son of a Seventh Son, was released this year. His earthy, soulful vocals were backed by a cadre of blues all-stars, including Kenny Smith on drums, Rick Kreher and Billy Flynn on guitar, Barrelhouse Chuck on keyboards, E.G. McDaniel on bass and Harmonica Hines and Bob Corritore on harp.

"There's two songs of Pop's on there and with anything I do, I'm gonna add Pop," said Morganfield, who was born in Chicago in 1954, and who bears a striking familial resemblance, tells Blues Blast Magazine. "But the rest of the disc is made up of several songs that I wrote, along with a song that Bob Corritore wrote and one my good friend Studebaker John wrote.

"But it's all got that Muddy style to it, because that's who I am," says Morganfield, who describes the new album as "some of the best work I've done so far. … Without me even trying, I come off like the son of Muddy Waters and I'm proud that it's like that."

His father holds an exalted place in the history of the blues. Waters was renowned for his blues-playing prowess across the Mississippi Delta, where he was born McKinley Morganfield. Worldwide fame and acclaim for his swaggering, Delta-rooted sound and piercing slide guitar attack came when he left the Delta for the bright lights of Chicago.

His oldest son, Larry, aka Mud, grew up surrounded by music, and particularly the blues. He's played music all of his life, starting with the drums his dad gave him as a young child, then moving on to the bass guitar. Mud didn't seriously consider being a professional blues musician until after his father's death in 1983.

Blues fans were introduced to Mud at a tribute concert to his father in 2007, but Mud's performance at the Chicago Blues Festival that same year brought him instant recognition. Blessed with a similar sense of vocal phrasing and stage presence, Mud, now 57, composed most of the songs on his new album Son Of The Seventh Son, including "Blues In My Shoes." He also performs the Muddy Waters tune, "You Can't Lose What You Ain't Never Had."

Mud is taking his recent surge in popularity in stride. He says: "When I'm up on stage I always feel Pops is there with me and it means so much that I can get on stage and keep his music alive around the world."

Saturday, October 20th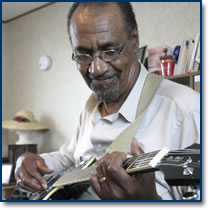 Alabama Slim
Alabama Slim was born Milton Frazier in Vance, Alabama, on March 29, 1939. His father worked building trains at the Pullman plant and his mother did domestic work. In their home, they had a Victrola and a boxful of 78s- this is where Slim fell in love with the blues of Bill Broonzy and Lightnin' Hopkins.

"I grew up listening to the old blues since I was a child. I spent summers with my grandparents who had a farm. Them old folks would get to moanin' while they worked, and I just started moanin' with them. That's where I learned to sing." — says Slim.

Slim grew up playing in juke joints in Alabama and moved to New Orleans in the '60s. Since joining the Music Maker Relief Foundation, which preserves and promotes musical pioneers and music traditions of the Southern U.S., Slim has performed widely in the States and abroad and he has recorded The Mighty Flood, an album featuring Slim and his cousin, blues guitarist Little Freddie King (who performed at the 2011 Blues Masters).

"I formed a band and we played little juke joints in the '50s and '60s. In '65, I came to New Orleans after hurricane Betsy. Got me a job with a moving company and then one making cooking oil," Slim says.

When Music Maker Relief Foundation founder Tim Duffy first met Slim, Duffy recalls, "I met Alabama Slim in New Orleans while visiting bluesman Little Freddie King. Slim is a towering man, close to seven feet tall. He was very well spoken and dressed in an impeccable tailored suit. He told me he was an old friend of Freddie's and was originally from Huntsville, Alabama. I told him if he ever got back there soon, that he should call me and I will get him into a great recording studio up there."

Impressed by Slim's voice and Freddie's guitar work that danced and followed Slim wherever he went, Duffy later asked the two to come to North Carolina to record. Slim and Freddie visited Music Maker and between fellow New Orleans musicians Slewfoot and Carrie B., they cut The Mighty Flood.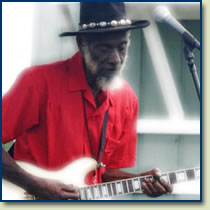 Robert Lee Coleman
Robert Lee Coleman was born May 15, 1945, in Macon, Georgia, and grew up in and around Macon during a time when the middle Georgia area was a hotbed of blues, R&B and early rock 'n' roll. His earliest musical influence was his stepfather, whom he remembers as a talented guitarist.

As was often the case during the 1950s, Coleman's introduction to playing in front of an audience came in the church. But the guitar had a strong hold on Coleman by then. He continued to hone his guitar chops, playing with most of Macon's prominent musicians of the day: Calvin Arline (Bobby Womack, Cher, Doug Kershaw, Jimmy Nalls Band), Newton Collier (Sam & Dave), Eddie Kirkland, Percy Welch and others.

Then, in 1964, Robert was picked by R&B legend Percy Sledge to play guitar in his touring band, a position he held down through 1969. During this time Coleman toured extensively throughout North and South America, the Caribbean and even Africa.

In April of 1970 James Brown came to Macon looking for players for his backing band, the newly-founded JBs. From then till the end of 1972, Coleman toured and recorded with Brown. Coleman's playing from this time is documented on three of Brown's albums: Hot Pants, on which Coleman was solely responsible for the guitar groove on the title track; Revolution of the Mind, recorded live at the Apollo Theater in NYC; and the song "Make It Funky" from the Soul Classics LP. Upon leaving James Brown, Coleman returned to Macon and resumed playing clubs and other venues with the same musicians he played with in the early days.

Through most of the 1980s Coleman played with organist Bobby O'Dea as a member of the house band at the Rookery, a downtown Macon institution, and toured with Larry Howard (Grinderswitch, Sanctified Blues). During the 1990s, Coleman frequently toured as a featured member of Big Mike & the Booty Papas.

Most recently, Coleman was a featured guest at the 37th anniversary of Grant's Lounge in Macon. Coleman continues to play with many local and regional artists and as a recording session guitarist.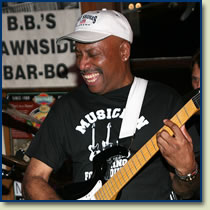 DC Bellamy


He calls Kansas City, Kansas, home now. After many years as a sideman to singers like Betty Everett, Donny Hathaway, Gene "Duke of Earl" Chandler, Brook Benton, and many other prominent classic R&B singers — Kansas City guitarist and singer/songwriter D.C. Bellamy released his debut album for the Rooster Blues label, Water to Wine, in the fall of 2000. And he followed it up in 2006 with Give Some Body to Somebody — both records were recorded at Blue Heaven Studios in Salina.

Gregory "D.C." Bellamy was born on Chicago's West Side in March 1949. He grew up in a household surrounded by musical talent, as his half brother was the late Curtis Mayfield, who would often hold rehearsals for his group, the Impressions, in the family's living room. Bellamy's grandmother purchased a piano for the family to use, and the children were all encouraged to play it. At age nine, Bellamy got his first guitar as a Christmas gift, and he began playing by ear and singing and playing along with Elvis Presley recordings. Even though he was raised in Chicago, a home for the blues, Bellamy was fascinated with rock 'n' roll as he watched firsthand the success of Mayfield's group. But growing up on the West Side, it was hard to ignore the great abundance of blues talent in his own neighborhood, so by the time he was 14 or 15, everyone knew Bellamy was on his way to making a name for himself as a guitarist.

When he was 17, he followed the rising popularity of the Impressions, Jerry Butler, Lou Rawls, and other great vocalists. He was introduced to singer Betty Everett, whose career was clearly on the rise. After hearing a short demonstration of his guitar-playing skills, Everett hired Bellamy for her tour, which developed into a 10-year tenure accompanying Everett on her tours around the world. During times back home, Bellamy freelanced, accompanying the likes of Donny Hathaway, Gene Chandler, Brook Benton, and others. Also back home, Bellamy began working with guitarist and singer Jimmy Reed.

Bellamy started a group that became a house band at a Chicago club, called Beale Street. Bellamy had a chance to play with every major blues figure in Chicago or passing through Chicago, for eight years. He was constantly writing songs and working on developing his own distinctive vocal and guitar style.

He recorded Water to Wine in 2000 at Blue Heaven Studios in Salina. The album features a stellar collection of modern blues originals: "Songs like "Water to Wine," "Next Door Neighbor's Woman," and "I Won't Be Around You" conjure up a style akin to Bellamy's famous half brother, Curtis Mayfield. For Give Some Body to Somebody, songs such as "I.C.U. Saw Me" and the title tune "give a new vocabulary to the oldest blues notions," wrote a reviewer for No Depression magazine. While other tunes on the record, such as "Bury The Bone" show Bellamy's humorous streak. "Bellamy's voice is both gritty and smoky, adding texture and tone to his shouting vocal attack," says reviewer John Morthland.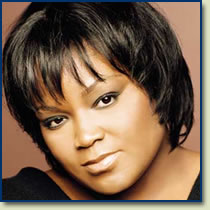 Shemekia Copeland
When blues singer Shemekia Copeland performs live, expect nothing short of an electrifying experience. Performing in the rich tradition of soul-drenched divas such as Etta James and Ruth Brown, Copeland has opened for the Rolling Stones, headlined at the Chicago Blues festival, sung at the White House and shared the stage with such luminaries as Buddy Guy, B.B. King, Mick Jagger and Eric Clapton. All the while scoring critics choice awards on both sides of the Atlantic.

Born in Harlem, N.Y., in 1979, Copeland actually came to her singing career slowly. Her father, the late Texas blues guitar giant Johnny Clyde Copeland, recognized his daughter's talent early on. He always encouraged her to sing at home and even brought her on stage to sing at Harlem's famed Cotton Club when she was just 8.

At the time, Copeland's embarrassment outweighed her desire to sing. But when she was 15 and her father's health began to fail, her outlook changed. "It was like a switch went off in my head, and I wanted to sing," she says. "It became a want and a need. I had to do it."

At only 19, Copeland stepped out of her father's shadow with the Alligator release of her 1998 debut album, Turn the Heat Up!, and the critics raved. The Village Voice called her "nothing short of uncanny," while the Boston Globe proclaimed that "she roars with a sizzling hot intensity." A year later she scored a movie role in "Three To Tango," while her song "I Always Get My Man," was featured in the film "Broken Hearts Club."

Her second album, Wicked, released in 2000, scored three Handy Awards (Song of the Year, Blues Album of the Year, Contemporary Female Artist of the Year) and a Grammy nomination. Two years later, New Orleans R&B legend Dr. John stepped in to produce her third recording, Talking To Strangers (2002), which Vibe called "a masterful blend of ballsy rockers and cheeky ballads."

Copeland released The Soul Truth in 2005. The album was produced by legendary Stax guitarist Steve Cropper (who also played on the CD), and featured generous doses of blues, funk and Memphis-flavored soul.

Never Going Back, her 2009 debut on Telarc, a division of Concord Music Group, took a more forward view of the blues and pointed her music and her career in a new direction. Produced by Oliver Wood, guest players included John Medeski, Marc Ribot and Chris Wood.

"I've had success in my career, and I'm happy with that," she says. "But that doesn't mean I don't want to continue to grow. In order for an artist to grow – and for a genre to grow – you have to do new things. I'm extremely proud to say I'm a blues singer, but that doesn't mean that's the only thing I'm capable of singing ... (My father) went to Africa and worked with musicians there. He was one of the first blues artists to do that. I want to be the same way, I want to be innovative with the blues."

Copeland has just finished recording a brilliant new album, 33 1/3, for Telarc.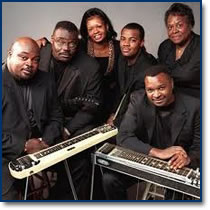 The Campbell Brothers with Ted Beard
Think that the steel guitar is exclusive to traditional country bands? You haven't heard — or felt — The Campbell Brothers!

Sacred Steel — African-American gospel music with electric steel guitar and vocals — is at the heart of the music tradition of the Church of Living God churches. Pedal steel guitarist Chuck Campbell and his lap eight-string steel playing brother Darick, are two of the finest players in this tradition. Rounding out the suburban Rochester, New York-based band, which has been playing together for nearly two decades, is a high-energy rhythm section featuring brother Phil Campbell on electric guitar and his son Carlton on drums.

Sacred Steel emerged from the House of God churches, where for more than 60 years it has been an integral part of worship and a vital, if little known, American tradition. Secular audiences are now able to appreciate a performance both devoted and rocking.

The Campbell's selection of material is spiritual, yet the guitar work of Chuck Campbell in particular is imaginative and at times even experimental, using a tuning he devised himself and the E-bow to produce eerie sustain. Their albums include Pass Me Not, Sacred Steel on Tour, Sacred Steel for the Holidays and Can You Feel It?

The Campbell Brothers closed 2003's Blues Masters Saturday night lineup with a rapturous set that's still being talked about as one of the most high-energy send-offs ever in the history of the concert!

"There's something mighty powerful about this stripped-down style of gospel. My suggestion for first-time listeners — wear a comfortable pair of shoes, because you'll be tapping your feet a thousand miles a second (if not dancing around the house!)," — a reviewer online wrote.

National Public Radio wrote in their review that "The Campbells create a unique, steel-guitar-driven gospel music called "Sacred Steel" that's every bit as earth-shattering as (Robert) Johnson's music was in the '30s. It's a soul-stirring blend of gospel and the power and volume of electric blues and rock, a sound as hot as brimstone that kicks holy butt. It's also shredding perceptions of country's signature instrument and the limitations of church music."

In short, think powerful, rhythmic, inspiring, jump-out-of-your seat-and-boogie good time musical pyrotechnics. It'll be a set in the old church sanctuary like none other! There'll be a joyful noise onto the Lord, all right. And you won't want to miss it.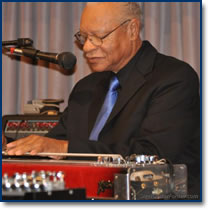 Ted Beard
Sacred Steel is a pedal-steel guitar style that evolved in the African-American Pentecostal denomination The House of God. Brothers and lap steel players Willie and Truman Eason, inspired by the electric blues and Hawaiian steel guitar of the 1920s and 30s brought the sound to two branches of the church, the Keith and Jewell dominions. Its hallmark — "talking guitar" — in which the sliding steel emphasizes and mimics the words of preachers and singers. In the 1970s, a new "Motor City" tradition began, featuring the more complicated pedal steel guitar. And then church player Robert Randolph and his family band began taking Sunday morning's music out on Saturday night! Enter some of the genre's most widely noted respected forerunners, including Maurice "Ted" Beard, born in 1935. Beard was ordained Pastor of the Joy Road House of God Church in Detroit in 1987. Beard is also the National Music Coordinator for the Keith Dominion of the House of God and one of the leading practitioners of the church's Sacred Steel music tradition. Calvin Cooke and Beard each took up the steel guitar in the 1970s, both as accompaniment for soulful hymns and driving "praise" or "shout" music for weekly services. Beard has laid a foundation and set the standard that many steel players have built upon.
Accommodations and Recommended Restaraunts